Christina Ricci was in 'Casper' (the friendly ghost)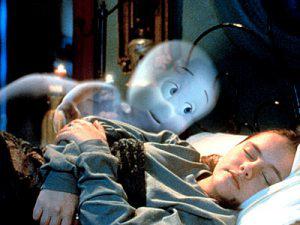 Photo Courtesy: snarkerati.com
This 1995 gem starred Christina and Bill Pullman…he must have had time off from being the President of the United States…sorry for the dated "Independence Day" reference.
Hopefully everyone on Earth has seen this film. If not, I am disappointed in you and here is a quick summary: Bill Pullman plays James Harvey, who is a therapist that can communicate with ghosts. Harvey is hired to speed up the process of getting four ghosts to move into the afterlife. He brings his daughter Kat (Christina Ricci) along for the ride. The movie has tons of fun hijinks that involve Casper's 3 ghostly uncles. Casper also gets to become human for a short time and shares a dance with Kat at her school's Halloween dance…such a moving moment.
Another thing I need to get off my chest – This film offers up one of the greatest quotes in movie history…"Can I keep you?" It gets me every time.
Btw – a young Devon Sawa played the human Casper…another Canadian-born gentleman I wouldn't mind stalking.
"Casper" did quite well at the box office. With a $55 million budget, this film grossed $287,928,194 worldwide. Point numero dos for Christina.