Hilary Duff was a rock/pop star?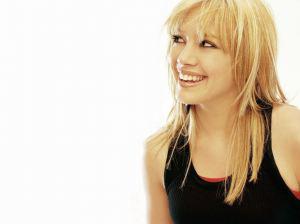 Photo Courtesy: kewlwallpapers.com
I knew from her days playing Lizzie McGuire that the Duffster was born shine. As you should know, we first met Hilary Duff when she starred in the Disney channel original series, "Lizzie McGuire." It was a show for preteens who had yet to discover The WB network.
What I have learned from Hilary (and Miley) is that if you start out as a Disney star, you will eventually toss out a couple of albums.
In my opinion, Duff's first real album didn't count because it was holiday-themed. Since I only like one Xmas song, (Mariah Carey's "All I Want For Christmas Is You") I reject all others. Duff's holiday album was called "Santa Claus Lane" and was released in 2002. But shit got real August 23, 2003 when the Duffster released "Metamorphosis." This was the best way to bash Aaron Carter's character…he's "So Yesterday."
Now, we all know I am a fan of pop tunes, especially the kind that toe the line between real music and "why are they recording this stuff?" While I am unable to be bias on the Duff's music, (I still jam out to "Why Not?") I'm going to try and convince you to give Duff's jams a listen.
Duff jam you should be listening to: "Come Clean"
Why you should be listening to this song? Duff said herself, it's "obviously about a boy and a girl's relationship and it's just talking about how somebody thinks they're in the dark. She's tired of it and he's tired of it and they're coming clean, whether it means they're gonna be together or not." She's so deep.
This was Duff's second single off "Metamorphosis" and peaked at number 36 on the charts…not bad girl. The music video shows the Duffster looking out the window at the pouring rain waiting for her man to scoop her!
Favises lyrics: "Trying to fit a square into a circle/Was no life" AND "I'm coming clean /Let the rain fall/Let the rain fall/I'm coming…"
Duff jam you should be listening to: "Fly"
This tune was off Duff's third self-titled album and was the only single released. A fun fact about this song: one of the writers was Kara DioGuardi – the one who replaced Paula on "American Idol." I'm still not over that. This tune charted just outside the top 20 on Billboard's Top 40 Mainstream, but didn't make it on the Billboard Hot 100…bummer.
I think everyone should listen to this tune because Hilary is so uplifting. She makes you want to be a better woman. I'm unsure whether men will get the same vibe.
Favises lyrics: "In a moment, everything can change/Feel the wind on your shoulder/For a minute, all the world can wait/Let go of your yesterday" (Damn right, girl!)
While there are so many other Duff jams that are worth the listen, they are all mostly about getting over a man. I think Duff used to be stuck on those types of songs after Aaron Carter broke her soul.
Hilary – I guess it was a good thing you didn't stay with Carter, look what happened to Lohan. Dum, dum dummmm.