Limp Bizkit did it all for the nookie?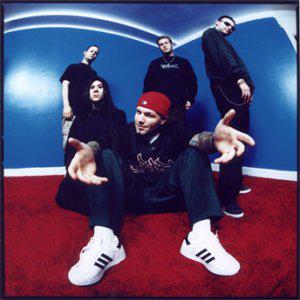 Photo Courtesy: themusicstories.com
You remember Fred Durst, right? He was the guy who did it all for the nookie, so you could take that cookie. I'm a few years wiser from when the song "Nookie" came out and I still don't know what the cookie part means. Is there a real cookie involved…like an Oreo? If so, that changes a lot of things. Call me if anyone knows the answer to this conundrum.
Limp Bizkit formed in 1995 with Floridian band members: Fred Durst – lead vocals, Wes Borland – guitar, Sam Rivers – bass, John Otto – drums and DJ Lethal – rockin DJ.
It wasn't until 1999, when their second album "Significant Other" was released that the world really took notice. This album debuted at #1 on Billboards Top 200 and has sold over 16 million copies worldwide. Not too bad, Fred. This album gave us many memorable hits and lured me to love any man who wore a red NY Yankee hat backwards…come on ladies, you know you did too.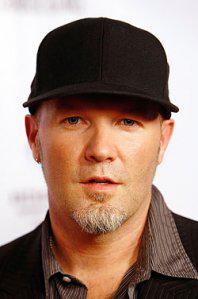 Photo Courtesy: nymag.com
Following "Significant Other" up with "Chocolate Starfish and the Hot Dog Flavored Water," (inside joke much?) the band didn't disappoint. Released October 17, 2000 – Fred and the gang were still banging out hits. This album also debuted at #1 on the Billboard charts, selling 12 million worldwide as of 2008. Limp Bizkit gave me and many other fans some more angry rock music to rage against the machine with.
As we all know, when you're on top, you can only roll downhill and that downfall started when guitarist Wes Borland peaced out. Limp Bizkit found a replacement and released "Results May Vary" in 2003. Debuting at #3 on the Billboard charts and sold…doesn't matter. Fact is, many people didn't like this album…but I kind of did. My favorite Limp Bizkit jam on this album is "Behind Blue Eyes." Why? Because Halle Berry is in the video! You know you're famous when…
Limp Bizkit has tried to claw their way back to the top…sorry Fred, not happening yet. Maybe you need to start harassing teen pop idols like you did back in the good old days. Let's hop into our time machine to a time when Fred Durst thought he was the genie in Xtina's bottle? This all started when Eminem blew up their spot in "The Real Slim Shady." Marshall used the following words:
"Shit, Christina Aguilera better switch me chairs/So I can sit next to Carson Daly and Fred Durst/And hear 'em argue over who she gave head to first."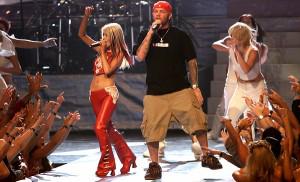 Photo Courtesy: mtv.com
O0o0o that's a no-no. Xtina's comment on this ordeal: "He got no nookie." I'm going to make a decision…decision made. I believe Xtina. In terms of Carson, I do recall Xtina getting more time on TRL than the other teen idols…just saying.
Fred also tried to spread vicious rumors about my spiritual goddess B. Spears. I can't bring myself to relive that pain.
There is something weirdly/wrongly sexy about Fred Durst. I remember trying to convince my mom to buy me the "Significant Other" album because it had that parental advisory sticker on it. That was where my negotiating skills really soared to new heights. I thought I was so badass listening to this album on the playground. Now I realized badass wasn't quite the word to describe that point in my life.
Fred – all I have to say is good luck and don't drag Britney into this…we have enough to deal with right now!