Mischa Barton was famous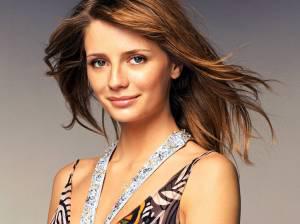 Photo Courtesy: theajworld.blogspot.com
Mischa – what is going on here, girl? Get. It. Together! Before I delve into "The O.C." era, let's take a few steps back. Mischa began her career when she was 8-years-old, mainly in off-Broadway plays. She slowly starting moving into movie roles…remember how eerie/creepy/scary she was in the "The Sixth Sense?"
As she grew up into a lady, Mischa appeared in a bunch of other movies and music videos. She took her shirt off in front of Enrique Iglesias and caused James Blunt a severe amount of pain in his "Goodbye My Lover" video. I always wondered who the woman was that ripped out James Blunt's heart…it was Mischa all along!
Now let's get to the good stuff. In August 2003, Fox started doing something right and premiered "The O.C." I was in front of my television…don't pretend like you weren't. This show had all of the elements a great tv show needs: a sexy nerd (Adam Brody), a bad guy that turned good (Benjamin McKenzie), a rich girl who loves the bad boy but has a controlling/crazy bf (Mischa Barton) and the cool parents (Peter Gallagher and Kelly Rowan). This show was a teenage goldmine.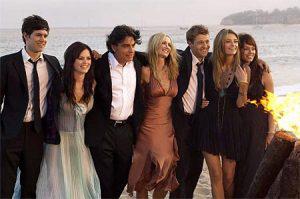 Photo Courtesy: dvdsetonline.com
Because of her role as Marissa Cooper, Mischa shot to a new level of fame. Unfortunately, she caught the Katherine Heigl syndrome and made the decision to leave "The O.C." before the fans were ready to let her go. To this day I remember the scene where Marissa Cooper dies in Ryan's arms…devastating.
Mischa's reasoning for leaving, "My character has been through so, so much and there's really nothing more left for her to do," "Barton told "Access Hollywood." Let's be real, after Mischa left the show, that was the final nail in the coffin.
In her spare time, she has also joined the ranks of those young celebs that have a penchant for getting arrested. In 2007, Mischa was busted for DUI, possession of marijuana and driving without a valid license.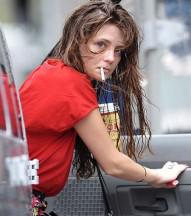 Photo Courtesy: hollywoodgrind.com
In another bizarre twist, Mischa went to her dentist because she had a toothache…next thing you know she's in the psych ward! Mischa says of the incident, "I am terrified of needles and they wanted to pump me full of drugs and I said, "No, absolutely not. I don't want to be here," and got into a fight with the nurses, and that led to my 5150."
After giving it her all, Mischa hasn't maintained the fame she earned from the "The O.C." She has starred in various movies and is currently filming a movie for Lifetime…we all know that means.
Mischa – Look at the beautiful men that flocked around you when you had your life together. Get. It. Together. Maybe you'll get an O.C. reunion out of the deal.