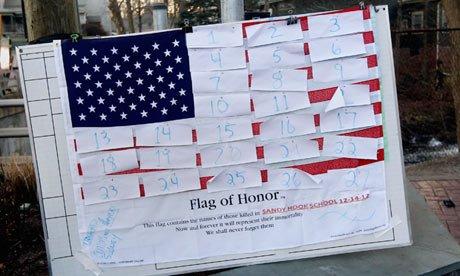 Photograph: Shannon Stapleton/Reuters
It's been a week since the tragedy at Sandy Hook Elementary school.  After observing a moment of silence at 9:30 e (the time the shootings began last Friday) I wanted to reflect on what I've learned.
I learned that evil does exist.  It not only exists, but thrives on attention. Therefore, I had made the decision to not publicize the shooter's name.  I will not give him "recognition" he wanted.
I learned that there are many brave people in the world.  Many brave teachers that would risk their own lives for their schoolchildren. 
I learned of the heroine story of 1st grade teacher, Victoria Soto, who tried to divert the shooter to the other end of the school in a sacrificial attempt to save their lives.  When 6 of the children darted out the closet all the kids were hiding in, Soto jumped in front of them to shield them from the bullets.  Victoria Soto is a hero.    
I learned of Dawn Hocksprung, the principal, who turned on the PA system to warn the teachers of an attack.  Hocksprung and Mary Sherlach, the school psychologist, rushed the attacker in an attempt to knock him down.  Dawn Hocksprung and Mary Sherlach are heroes.
I learned of the story of Kaitlin Roig, a 1st grade teacher, who ushered her schoolchildren into a closet and comforted them as they prayed for rescue.  Kaitlin Roig is a hero.    
Every first-responder is a hero.
I've sadly learned that even if the 2004 assault weapon ban hadn't expired there is no guarantee that the murder weapon would have been banned.  This incredulous information is why I have advocated for a ban on semi-automatic weapons.
I want to let the families of Sandy Hook know that we support them and pray for them.  And most importantly you are never alone.  I think this video is a great tribute.