Some important facts to help you stay safe this bonfire night.
Pyrotechnics is the use of chemical reactions to produce heat, light, gas smoke and sound. They are also considered a controlled substance. The most commonly known pyrotechnic for commercial and entertainment use is fireworks. Others include:
Model rocket motors
Highway and marine distress flares
Sparklers and caps for toy gun
All of these are in some way controlled by government regulation. For example, by law anybody under the age of 18 will not be allowed to purchase fireworks.
In the UK, you can be fined up to £5,000 for the misuse of fireworks including if they are used at unpermitted times.
Disposing of Pyrotechnics
Since pyrotechnics contain explosives, it is essential that they are disposed of carefully. It is illegal to dump expired pyrotechnics in the sea or on land, and expired flares should only be used in case of an emergency.
Legal Responsibilities for Disposing of Explosives
Anyone disposing of explosives must do it in a way that is safe and not harmful to the environment. This will ensure the safety of wildlife or any waste collectors that may come into contact with them.
Disposing of Fireworks
Although fireworks can be great fun for families all year round, they are an explosive and can cause serious injuries or fatalities if they are not handled correctly. Used and unused fireworks must be disposed of correctly to avoid these scenarios.
Firework Categories
Fireworks are classified into 4 categories by law in the UK. These categories were put in place to ensure safety to the public, and to prohibit the use of large, professional fireworks to anybody who isn't fully trained to use them.
F1 Fireworks
The category F1 is typically given to indoor fireworks. Fireworks in this category usually pose minimal hazards and are intended for use in confined areas.
F2 Fireworks
Also referred to as 'garden fireworks', those in the F2 category are intended for outdoor use and require 8-15 meters distance.
F3 Fireworks
Fireworks in category 3 are also referred to as 'Display fireworks'. F3 fireworks are intended for outdoor use in large open spaces as they present a medium hazard.
F4 Fireworks
Category F4 fireworks have a high hazard and are intended to be used by only people who have professional knowledge and training. This can be companies who host professional displays.
Incineration and Fireworks
High temperature incineration takes pyrotechnics past the point of explosion, destroying them and turning them into ash. This ash is then safe to dispose as it no longer contains dangerous chemicals that can be misused. Hazardous waste incinerators are the most well-suited for method of disposal for fireworks that contain dangerous chemicals.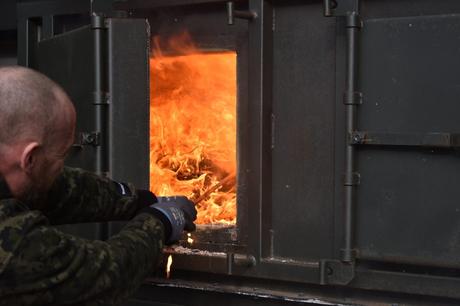 Incineration can also be used to destroy the remnants of used fireworks that are left after the explosion. This typically consists of materials such as:
After incineration is used for burning the remnants, the ash is no longer considered to be dangerous and can be disposed of accordingly.
We know a thing or two about working with high temperature. Using the correct PPE equipment when working with fireworks or pyrotechnics is essential to avoid injuries.
If a firework is unused and not damaged in any way, we recommend checking the instructions provided with the firework for the best method of disposal for that particular firework.