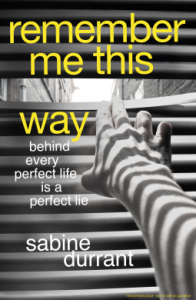 Psychological Thriller
5*'s
Sometimes you know a book is for you from the very first page and for me that was one of those books.
Valentine's Day 2012 was the date of Zach Hopkins accident; tragically his car turned into a fire-ball after hitting a tree. It takes Lizzie a whole year before she is strong enough to visit the site of his death and his cottage in Cornwall. Reaching the tree which he'd hit with a bunch of flowers she notices another offering to Zach from Xenia, someone she has never heard of.
… and so the story begins. Told in the years running up to his death by Zach and in the present day by Lizzie, his widow. After finding the flowers Lizzie realises there was a lot about Zach that she didn't know and when she starts her own investigations she realises there were far more gaps than she could have imagined. To make matters worse Lizzie is sure someone is following her and. Lizzie's sister Peggy believes that this is because she is grieving, the problem was that Lizzie hadn't been entirely honest with anyone before Zach's death.
Sabine Durrant has created a truly terrifying character in Zach and Lizzie's revelations about what life was like with her husband are all the more chilling because of the matter of fact way they are relayed. Zach's own assessment of his relationship with Lizzie is even more disturbing. With Zach's narrative echoing Lizzies many chapters later is an excellent device that allows the reader to see two sides of the same story without it appearing repetitive.
I rarely mention the ending of a book in my review because I don't want to spoil the book for others but I'm going to break my own rules here by saying: the ending wasn't what I expected but it wasn't a disappointment either. That doesn't give anything away as along the way there were enough twists and turns to make my head spin and I am notoriously bad at predictions!
The other characters we meet during this tale are well defined although Zach's student Onnie is 'off the wall' not unreasonably so and Lizzie's relationship with her mother, who has Alzheimer's validated Lizzie's view of herself and her sister Peggy.
A brilliant read, I am going to be reading Sabine Durrant's debut novel Under Her Skin very soon.
I'd like to thank the publisher's Hodder & Stoughton for allowing me to read this fantastic book for this unbiased, though glowing, review ahead of publication of today 17 July 2014.