The world faces an important energy choice, according to a new report launched by the International Renewable Energy Agency (IRENA) in New York last week. "REmap 2030" says that scaling-up renewable energy to 36% of the world's total final energy consumption by 2030 is possible, affordable and will keep the world on a trajectory consistent with a CO2 level of 450 ppm, the widely accepted threshold to limit global temperature increase to two degrees Celsius above pre-industrial levels by 2100.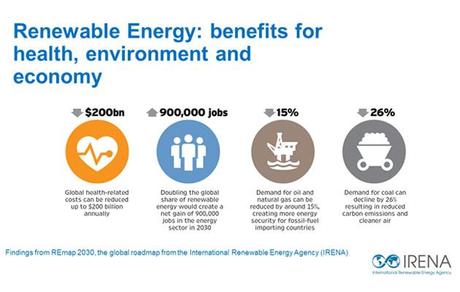 Renewable energy: benefits for health, environment and economy. (Credit: REmap 2030, International Renewable Energy Agency)
The report demonstrates that the investment cost for this global expansion of renewable energy is offset by savings of up to $740 billion per year on costs associated with pollution from fossil fuels.
SEE ALSO: IRENA: 6.5 M People Employed in Renewable Energy Worldwide
"The central policy question is this: What energy sources do we want to invest in? Our data shows that renewable energy can help avert catastrophic climate change and save the world money, if all costs are considered," said Adnan Z. Amin, Director-General of IRENA, in New York. "In answering this question, 'REmap 2030' makes a clear case for renewables. It shows the transition is affordable based on existing technologies, and that the benefits go well beyond the positive climate impact. Countries today face a clear choice for a sustainable energy future."
Doubling renewable energy to 36% of global energy consumption will reduce the global demand for oil and gas by approximately 15% and for coal by 26%, cutting energy-related pollution and adverse health effects as well as increasing energy security for countries dependent on energy imports. It would also create a net gain of nearly one million jobs by 2030.
"We can double the renewable energy share in the global energy mix, but we are not on that path now. To realize the world's renewable energy potential, all governments need to step up their efforts. We need to act now," Dolf Gielen, Director of IRENA's Innovation and Technology Centre, added. "IRENA recommends focusing on five key areas: planning realistic but ambitious transition pathways; creating enabling business environments; managing knowledge of technology options and their deployment; ensuring smooth integration of renewables into the existing infrastructure; and unleashing innovation."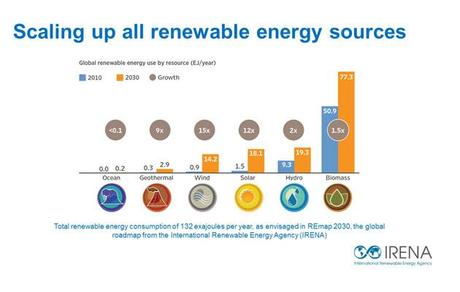 Scaling up all renewable energy sources. (Credit: REmap 2030, International Renewable Energy Agency)
"REmap 2030" builds on the analysis of the energy requirements in 26 countries that account for 75% of global total final energy consumption. IRENA collaborated with countries and research institutions in the development of the report, which derives its objective from the United Nations Secretary General's Sustainable Energy for All (SE4ALL) initiative.
Some of the key findings of REmap 2030 include:
The global renewable energy share can reach and exceed 30% by 2030. The technologies are already available today to achieve this objective. Energy efficiency and improved energy access can advance the share of renewables in the global energy mix to as much as 36%.
Business-as-usual will only result in an increase of this share from 18% in 2010 to 21% by 2030.
As the use of traditional biomass decreases, the share of modern renewables will more than triple. As energy demand continues to grow, this requires a quadrupling of modern renewables in absolute terms.
Renewables growth needs to take place across all four sectors of energy use: buildings, transport, industry, and electricity.
Transitioning towards renewable energy is possible at negligible additional cost. The economic case for the renewable energy transition is even stronger when we include socio-economic benefits—with these factors are taken into account, switching to renewable energy results in savings of up to $740 billion per year by 2030.

The analysis shows that the deployment of renewable energy can reduce annual CO

2

emissions by 8.6 Gt by 2030. Such emissions savings, combined with energy-efficiency gains, would be sufficient to set the world on a path to preventing catastrophic climate change.