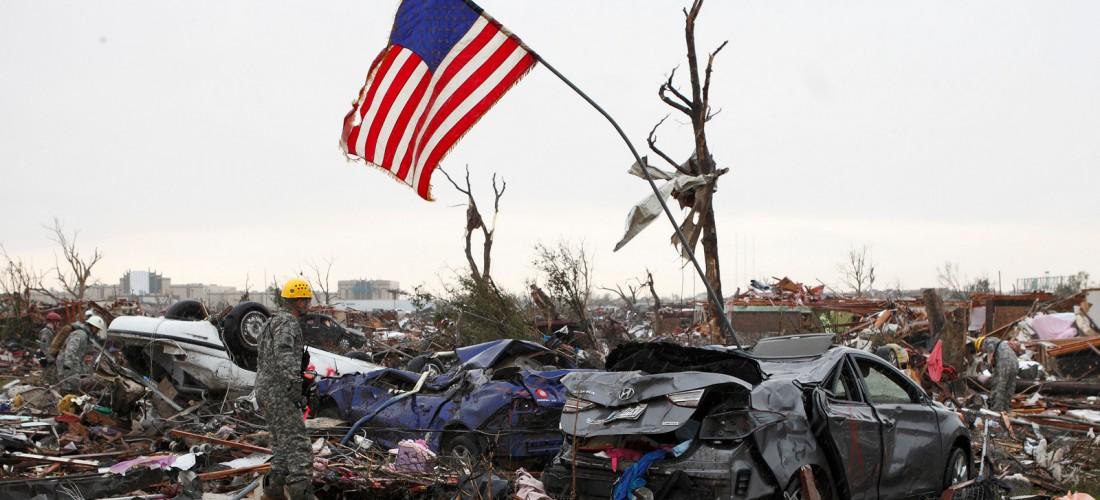 Members of the Oklahoma National Guard's 63rd Civil Support Team conduct search and rescue operations in response to the May 20, 2013, EF-5 tornado that ripped through the center of Moore, Oklahoma. (Credit: The National Guard)
According to the figures supplied by the Munich Re Group, the frequency of natural disasters like the Moore twister more than doubled worldwide over the last 30 years. Last year disasters killed 9,500 people, displaced millions and shook the economies all over the world. It's no surprise that countries and companies are looking to mitigate these shocks through technology and preparation.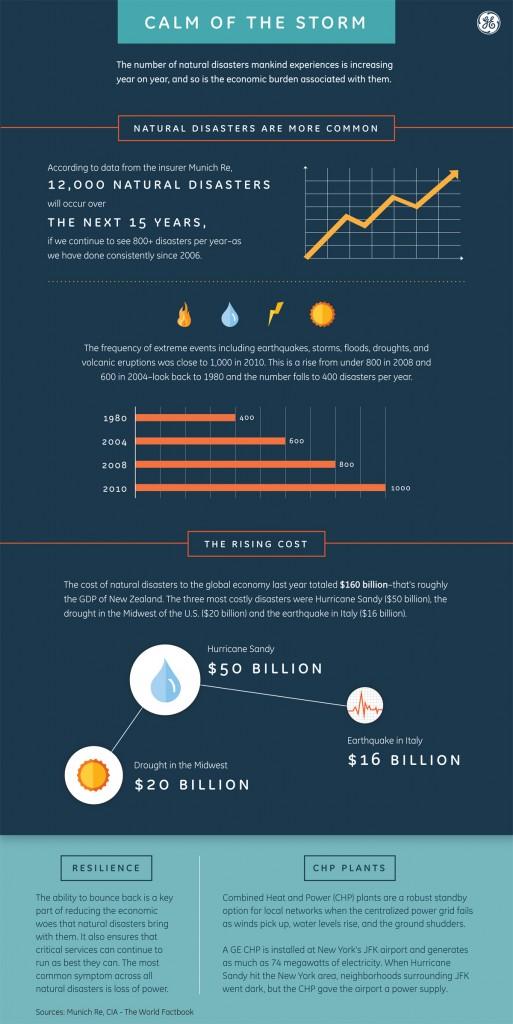 General Electric's infographic on storms and natural disasters. Click to enlarge.
"There are major cities around the world like Tokyo, Manila, and Santiago facing multiple natural hazards," says Peter Evans, director for global strategy and analytics at GE. "Disasters will strike, but some of the cost and impact can be reduced with the deployment of more resilient infrastructure."
Evans spoke on Thursday at a Washington, D.C., conference held by the CHP Association. The group promotes "combined heat and power" technologies that generate efficient and reliable electricity and heat (or cooling) near the consumer. Distributed CHP power plants can form sturdy nodes for microgrids that can supply heat and electricity to people and businesses even if portions of the network are knocked offline. "Building greater local and regional resilience with distributed power technologies like CHP can keep critical infrastructure, such as hospitals, communications systems, water treatment plants and airports running," Evans says.
Just this May, for example, New York Governor Andrew Cuomo announced $40 million in funding for new distributed energy systems to protect hospitals, residential buildings, and factories from power outages caused by severe weather. Engineers from New York's Energy Research & Development Authority (NYSERDA) are talking about "refuge facilities" powered by resilient gas engines or gas turbines where people can recharge their phones and computers and plug in medical equipment when a storm knocks out power. "It is important that we invest in the installation of these kinds of power systems across the state to fortify our infrastructure against severe weather to maintain essential services and business productivity, and most of all, protect New Yorkers," Cuomo said.
Distributed power works. Calpine, for example, operates a CHP plant at New York's John F. Kennedy International Airport that can generate 74 megawatts of electricity. When Hurricane Sandy struck New York City last October, the airport had power even though while adjacent neighborhoods went dark.
Nearby New Jersey registered 2.6 million power outages caused by Sandy, but few from Princeton University. The school's cogeneration plant decoupled from the central grid when it went down and continued to provide heat and power to the campus. "We originally built the cogeneration plant to reduce campus energy bills and provide reliable utilities," Ted Borer, energy plant manager at Princeton told GE Reports. "Its ability to serve the campus in 'island' mode made all the difference during the hurricane."
John McDonald, director of technical strategy and policy development at GE Digital Energy, says that the smart grid, a network of smart meters, sensors, and other "intelligent" devices and systems, can also help customers and utilities power through disaster. The system can quickly detect and isolate the biggest problems before they cascade and cause a blackout. "When utilities don't invest in the right technology, they don't have any foresight when things happen and customers suffer from it," McDonald says.
McDonald says that the smart grid in combination with social media can help utilities spot problems before they spin out of control, tell customers how long they are going to be without power, and tell them that help is coming. "Historically, utilities have little experience in engaging their customers, but you need to bring them in to help you diagnose the problem," McDonald says. "This is where you empower your customer through social media. When you see power go out or a tree come down on the wires, send us tweets and pictures, use our hashtag. The bottom line is that customers know that we know that there is a problem, that we have a crew on the way or already on site, and that we expect to have power restored in a certain number of hours," McDonald says.
Knowing that help is coming is often a good first step. CHP, the smart grid, or Twitter will not stop twisters or hurricanes. But they can help utilities and critical energy systems endure or minimize the impact of these events and potentially recover more quickly.