Couples counseling is my passion. Usually when couples come in for their initial session, they focus on the past. They spend a lot of time remembering and documenting every last detail of what happened, making sure to say that it didn't work.  It is as if they think that dwelling on the past will help change things for them.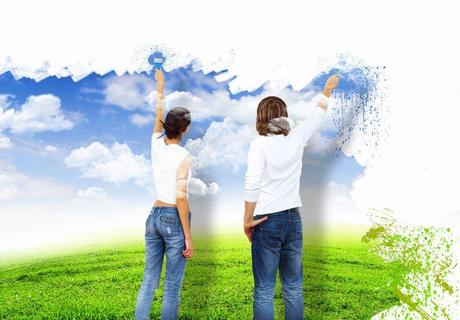 Don't get me wrong; gathering a history is an important part of the change process. But then it becomes time to make the changes. After gathering a history, I move into a realistic intervention and introduce what I call the vision board. I've even gone so far as to offer poster board and magic markers for the project.
A vision board is a collage of images, pictures, and affirmations of your dreams. It shows all of the things that make you happy. It can also be called a dream board, treasure map, or vision map.
Vision boards are a great way to make you feel positive, and this method is helpful if you are using the law of attraction.
The board's purpose is to change a person's thinking from past events to future ones. It moves the focus on what wasn't working, to what could work. It challenges your thinking to move beyond what is currently broken, to what can be changed. It brings you into a goal-oriented frame of mind. Pick a time frame for it: five years, ten years—whatever works. Remember, a vision can change, so don't feel it has to be perfect.
Here is how to get started.
Decide the main theme of your board. How would you like to see your relationship in the next few years? Think of things you and your spouse will be doing in the next years as a couple. Your theme may be based on something specific you wish to accomplish or obtain. Or your theme may be a general idea of everything that makes you happy.
Find pictures that correspond with your theme, either from old magazines, photographs, or from the Internet. If you are creative, draw some pictures of your own. If you have photographs of an earlier time (memories of when each of you seemed happy), include those as well.
Print your pictures (if necessary), or cut out your pictures.
Show your pictures to each other. Together, decide which ones speak the loudest. Keep those, and discard the others. Now you are ready to begin to assemble them.
Type or write some affirmations or thoughts that correspond with your pictures. Find words or phrases that tell what you see the two of you doing. Show them to each other and then arrange them on the poster board together. Add these thoughts to your poster board, and pin them to your cork board.
Talk about this exercise and share your feelings.
Your board is now complete, so view it at least once a day. Focus on the objects, sayings, and theme of your board.
Anxiety is a state of uneasiness and apprehension about future uncertainties. Do not become anxious about the board. Rather, use it to guide you to a positive goal, which is the longevity of your relationship.  Most important make your visions doable, not fallible.