Churches WLTM Ministers
I have just been through the experience of discerning a call to a new church. Overall, it was one where hope, caution, love and grace were expressed on both sides. For this, I am truly grateful.
I have been reflecting on my experiences of how this process has been conducted over the years. When ministers and churches are looking for each other, it is the first steps in a relationship which both parties hope will flourish for many years to come. What follows are some thoughts about how it is done.
"If only you had told me"
Relationships rely upon honesty, and that is so right from the very beginning. Showing a prospective minister round the church where the previous minister left in such a hurry that his books are still on the shelf…but saying nothing about it, is not a good start.
When it is clear to both parties that this relationship is not going anywhere it is best to say so – no matter what the pressure might be from an external matchmaker.
If the leaders of a church are not unanimous in backing the prospective minister, the only thing to do is tell him or her – and not gloss over it as if 'everything in the garden were lovely'!
"Be prepared"
Asking a minister to wait six weeks before meeting him, and then leaving him to wait downstairs whilst deciding whether you can actually afford to pay a minister suggests that you are not ready for a relationship with him, or anybody else, right now.
Connectivity makes the world a very small place. This being so, if you invite a minister to discuss a call with you whilst actually pursuing one with somebody else – the chances are he or she will find out about it.
"Its good to talk – but not to everyone"
There is something about the process of a minister and church 'finding' each other which is akin to the process of falling in love. When we find ourselves in such a situation, talking to each other can only be good. The honesty and frequency of conversations between the two parties is paramount.
A romance, however, is something best conducted away from the public eye. On one occasion when I asked a church not to share my name early on in the process, they insisted on doing so, and that was the end of that particular 'romance'. Without mutual trust, it is impossible to proceed.
"My flexible friend"
A certain credit card used to market itself as 'your flexible friend', and flexibility can certainly be an asset in this process. Always accept the guidelines created by those who are older and longer in the tooth. Bear in mind, though, that the prospective minister's diary may be as busy as that of the church which is looking.
Faith and folly
Despite the fact that people are falling in love and marrying all the time, the Bible has little to say about choosing a spouse. In fact, the only story to be found in scripture about it is a rather peculiar business involving herds and wells. The business of ministers and churches finding each other is far from perfect. It is as full of flaws as all the players within it. In the end, though, the grace of God prevails – both in the appointment of a minister and in the ministry which follows.
Take delight in the Lord,and he will give you the desires of your heart.(Psalm 37 v.4)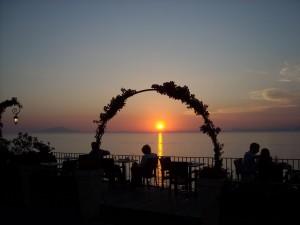 Sunset over the Bay of Naples