This post may contain affiliate links. Please read my disclosure.
These super cute and healthy Reindeer Holiday Sandwiches are filled with peanut butter and fresh fruit. Sprouted wheat bread is cut into a heart shape to make a reindeer face, with pretzels for antlers, and chocolate chips for the eyes and naturally colored chocolate candies for the nose.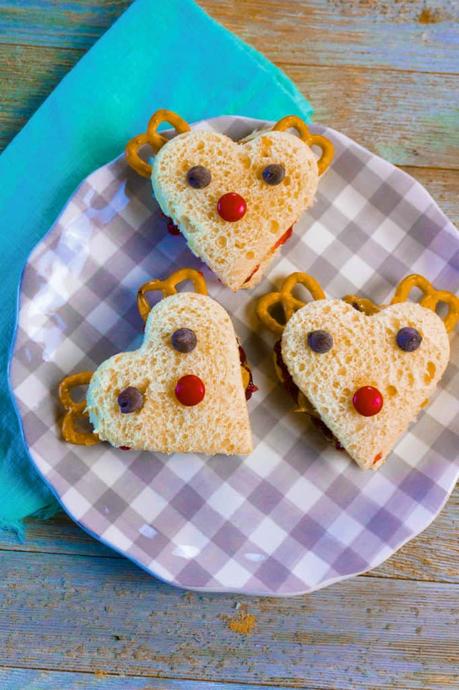 I love getting into the holiday spirit by turning the ordinary into something festive. These reindeer holiday sandwiches are just that! I took everyday ingredients I had on hand in my pantry and refrigerator and turned them into a super cute take on the traditional PB and J. I brought the kids into the kitchen with me to make lunch, and together we assembled these reindeer holiday sandwiches. They were almost too cute to eat! We all enjoyed putting together this easy and festive holiday sandwich.
Kitchen Tools and Equipment You'll Need to Make Reindeer Holiday Sandwiches
How to Make Reindeer Holiday Sandwiches - Step by Step
Step 1: Place bread on a cutting board and cut out six heart shapes. Set aside.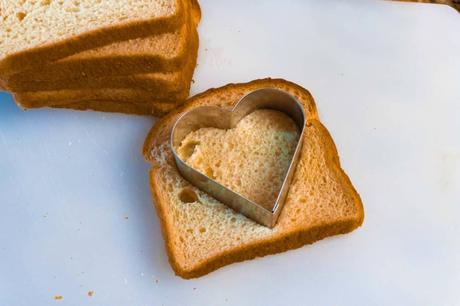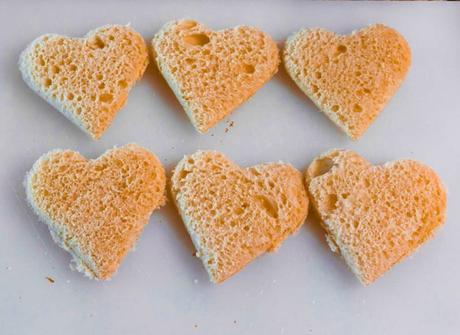 Step 2: Spread peanut butter on your bread, place fresh fruit on top of 3 of the heart slices. I used sliced strawberries but you can use any fruit you like!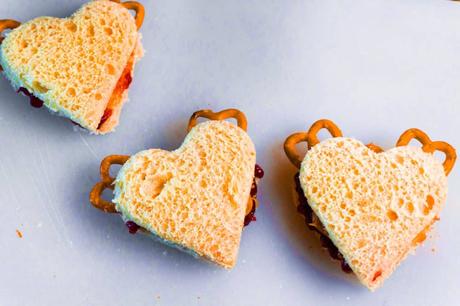 Step 3: Place pieces together. Stick two pretzels at the top of each side of the heart for antlers.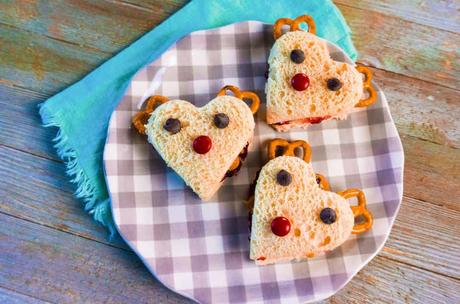 Step 4: Add two chocolate chips for eyes and a M&M style candy for the nose. Instead of regular M&Ms which have artificial colors, you can use these M&M style candies from Trader Joes or from UNREAL. You can use red for Rudolph or brown.
Whole Grains: Instead of white bread, we use sprouted wheat bread for this recipe. These all natural whole grains are broken down more slowly than refined grains, which helps you to feel fuller longer.
Healthy Fats: Nut butters contain healthy monounsaturated fat. This type of fat reduces heart disease and helps to control blood sugar. You can use any nut butter of choice in this recipe - I chose peanut butter but almond, cashew or even walnut butter would all work great.
Fresh Fruit: Instead of using jam, these Reindeer Sandwiches call for fresh fruit of your choice. Jam is filled with added sugar. Swapping out jam for fresh fruit reduces the sugar and adds more fiber.
High in Fiber: Whole grains + fresh fruit = tons of fiber! Fiber helps with your digestive system, with controlling cholesterol, and with regulating blood sugar.
No Artificial Colors: Instead of regular M&Ms which have artificial colors, I recommend using these M&M style candies from Trader Joes or from UNREAL.
What makes these Reindeer Holiday Sandwiches healthy?
What makes these Reindeer Holiday Sandwiches kid-friendly?
This recipe was created with kids in mind. They'll love all the details that make this sandwich looks like a reindeer, and you'll love all the healthy ingredients. Make these sandwiches for a special lunch. Your kids will be thrilled to open their lunchbox and find a Reindeer Sandwich! Or make a bunch and serve these at your holiday party as the kids' entree.
Can you make Reindeer Holiday Sandwiches in advance?
You can prepare these sandwiches in advance to pack in your child's lunch (just leave out the pretzels and add those right before serving). If you're planning to prepare a platter full of Reindeer Sandwiches for a party you can make them a few hours in advance. Just be sure to keep them refrigerated. The reason I like to leave out the pretzels and add them just before serving is to prevent them from going soggy/soft or stale. Some fruit holds up better than others when preparing the sandwiches in advance. I recommend using a firmer fruit such as an apple, pear, or strawberry instead of a banana that will brown quickly.
Sun Butter: Use sun butter in these sandwiches to make them allergy friendly.
Other Nut Butters: You can swap out peanut butter for almond, walnut or cashew butter.
Raisins: Instead of using chocolate chips, you can raisins for the eyes.
Dried Cherries or Cranberries: You can use an unsweetened dried cranberry or dried cherries instead of the red M&M to make the nose.
Triangle Shape: If you don't have a heart shaped cookie cutter, you can cut the sandwiches in half creating two triangles. Position the antlers along the cut side of the triangle and the nose along the corner.
Variations of Reindeer Holiday Sandwiches
How do you serve Reindeer Holiday Sandwiches?
Serve these Reindeer Sandwiches with carrot sticks and melted snow (milk). Reindeers love to eat carrots, so this is a perfect compliment to the sandwiches. Sticky peanut butter sandwiches pair well with cold milk. You can call it melted snow for fun!
Use a large enough cookie cutter that fits the size of the two bread slices.
Spread the peanut butter using a butter knife.
Use all natural organic peanut butter.
Slice fruit thin. Apples, strawberries, pears, and bananas work well in this sandwich.
Use a little bit of peanut butter to stick the chocolate chip eyes and M&M nose to the bread so it doesn't easily fall off when you take a bite.
Use a little extra peanut butter as needed to secure the pretzel antlers.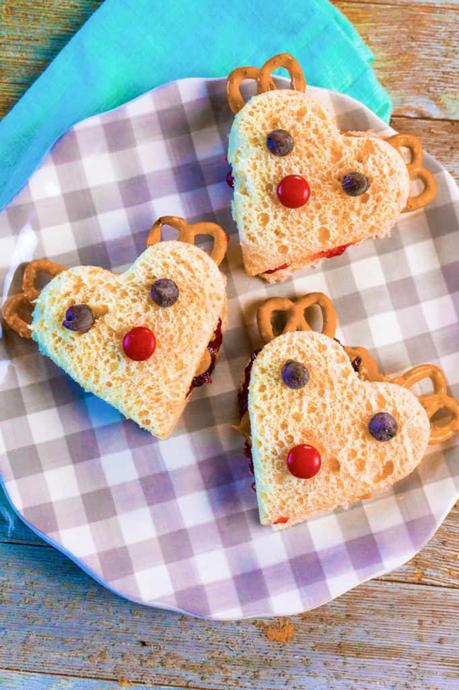 If you have tried these Reindeer Holiday Sandwiches, or any other recipe on my blog, then please rate it and let me know how it turned out in the comments below! You can also FOLLOW ME on FACEBOOK, TWITTER, INSTAGRAM and PINTEREST to see more delicious, healthy, family friendly food!
Top Tips for Making Reindeer Sandwiches
CHECK OUT THESE OTHER HEALTHY HOLIDAY RECIPES!
Reindeer Holiday Sandwiches