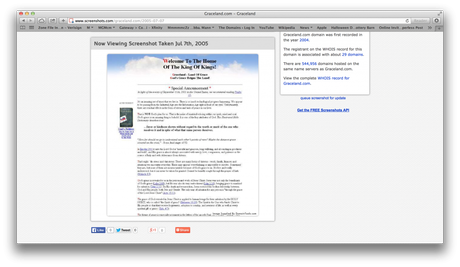 Someone, presumably the Elvis Presley estate just filed a UDRP on the domain name Graceland.com
The domain name Graceland.com has an original registration date of December 23rd 1994.
The domain is owned by a  Simon Higgs of  Burbank California  who has seemed to have owned the domain name continuously since at least the earliest Domaintools.com entry which is from 2004.
The domain names is not parked but instead seems to be a religious site and seems to have the same look to it as far back as Screenshots.com goes which is 2005.
The site's header also seems the same as it was back in 2005:
""Welcome To The Home Of The King Of Kings!
""Welcome to the home of the King of Kings (Revelation:19:16)."
Talk about Latches it should be an interesting case.
The Complainant is not listed so far so the Elvis Estate is just a guess on my part.
The UDRP was filed with the National Arbitration Forum and we will be keeping on eye on this one.…