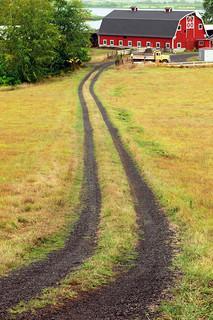 Photo by Ian Sane. 
A sponsored post on behalf of Alzheimer's Prevention Initiative (API).
On Mondays, I call bingo at a skilled nursing center near my home.  After the game, I stop by the common area to visit with some of the residents who don't attend bingo anymore.  I tell one resident how much I like her afghan. 
Rebecca tells me that she's waiting for her mother to come pick her up.  If true, this would be remarkable, given that my friend is in her mid 80s.  However, I recognize that
as a person with Alzheimer's Disease, she's prone to hold on to long-term memories of her childhood
more easily than holding onto short-term memories of what she did that morning.  
I ask Rebecca to tell me about her family's farm, validating her need to claim a sense of home.  But at the same time, I'm trying to distract her from the idea that her mother is on her way. Maybe if we travel down those country roads through conversation, she will gain some satisfaction. 
Many residents in nursing homes have Alzheimer's or another form of dementia, especially those in their 80s and 90s.  
Alzheimer's is the sixth-leading cause of death in the United States
and the only cause of death among the
top 10
that cannot be prevented, slowed or cured. Yet.
Researchers are working hard to understand the
risks and causes
of Alzheimer's. Some are working on medications to slow down symptoms. Long before clinical signs are apparent, the brain develops plaques and tangles.  Some of the cutting-edge research focuses on how these plaques and tangles are formed and how they might be removed--or better yet prevented from forming.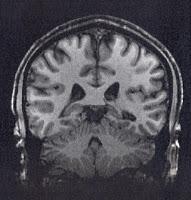 Healthy brain.
Image by Nathaniel Burton-Bradford
Most people who acquire Alzheimer's have little indication this will happen--unless they consider advanced age as the highest risk factor.
Nearly 1 in 3 Americans over the age of 85 is diagnosed with Alzheimer's. 
See
this 8 minute video
for more information about projections, strain on caregivers and economic impact of Alzheimer's Disease.
Others have a form that has a genetic marker.  The Alzheimer's Prevention Initiative is affiliated with a research organization that has been
conducting a study
 with families predisposed to acquiring Alzheimer's, which involves an early onset. This means that the person is younger than 65 at onset; some are  in their 40s when they begin symptoms.
If you have read the novel 
Still Alice
, it gives a fictionalized account of a woman with early onset dementia. It also shows her adult children deciding whether they want to undergo genetic testing to see if they will contract this devastating disease.  Beyond the pages of the book, there is hope that that a cure can be found for both forms of Alzheimer's. But a cure is going to require some investment, even if the investment is just a little of your time.
If you would like to loan support to the prevention of Alzheimer's,
please register
to receive information about current research such as the clinical trials conducted by the Banner Alzheimer's Institute (BAI). You can be part of an online community that shares current information about general brain health, Alzheimer's prevention, and future clinical trials.
For more information about the Alzheimer's Prevention Initiative, the registry and the scientists from the Banner Alzheimer's Institute,
explore the links at endalznow.org
Let's create a brighter future by traveling down the road of Alzheimer's prevention together.
Register today and tell a friend since more than 1/3 in the U.S. have a personal connection to Alzheimer's Disease.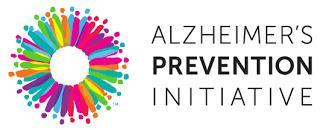 Related:
Movies Depicting Alzheimer's Disease
Mild Cognitive Impairment
Prevalence of Dementia as a Diagnostic Tool
Is It Dementia or Delirium?