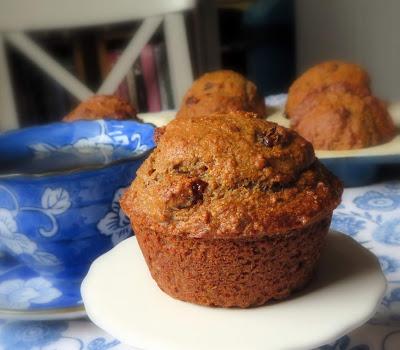 I don't think I have ever met a muffin that I didn't immediately fall in love with, although to be sure I have some which I like a tad bit more than others.  Of all the muffins I have to say that Bran Muffins are my absolute favourite!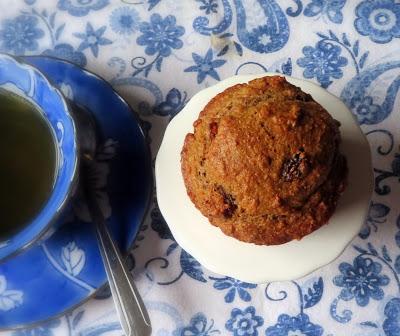 Having said that however, I would never turn a muffin down when offered, no matter the kind.  I was going through my muffin recipes on here and I realised that this was one recipe I had not shared in all the years I have been sharing recipes!  I needed to rectify that immediately!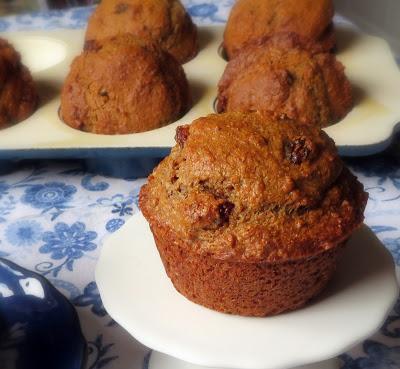 This is the muffin that I had to bake for my boss every morning when I worked at the manor. The batter always had to be in the refrigerator.  She insisted that this was the best bran muffin recipe ever, although adding raisins or using raisin bran in hers was expressly forbidden!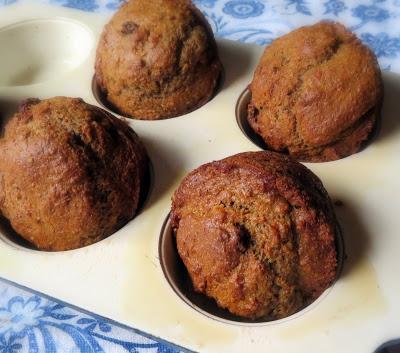 She was not a fan of raisins, but she was, however, a huge fan of this recipe.  The recipe comes from my Big Blue Binder and you will find it in my self published cookbook of the same name
Here
.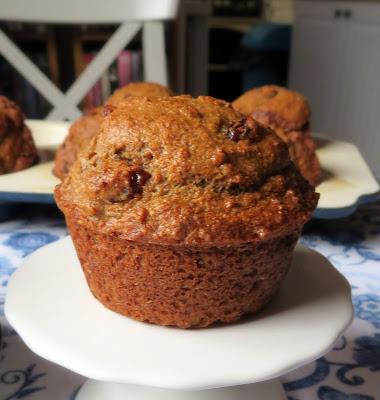 When I baked them for her, I was instructed to bake them in mini muffin tins . . .  she did not want large muffins.  She thought eating a regular sized muffin was too fattening . . .  so she would eat 3 mini muffins every morning, along with six prunes,  a handful of  mixed nuts, and a glass of fruit smoothie that I had to make fresh every morning also.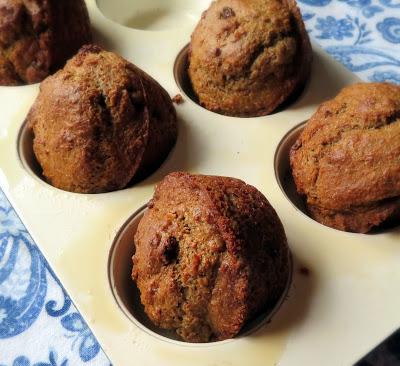 The brain is a funny thing  . . .  I don't think that 3 mini muffins held any fewer calories than 1 regular sized muffin, but for some odd reason in her mind they did.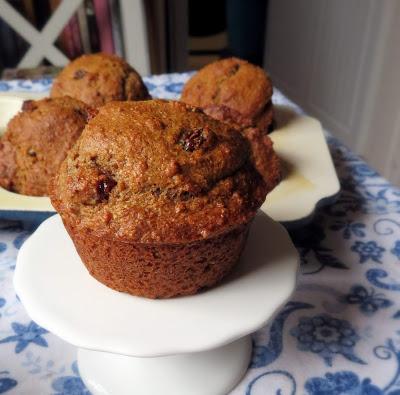 The recipe for this batter makes about 8 cups of batter and will last a good six weeks in the refrigerator, not that you will have it around that long.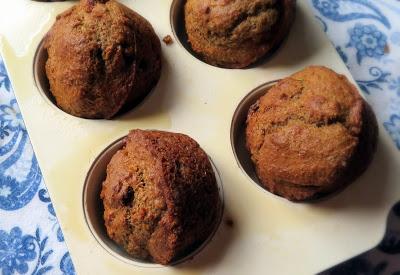 They are so tasty that the batter will be long gone by the end of six weeks.  Long gone  . . .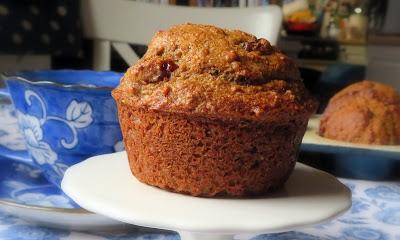 They use two different types of bran cereal  . . .  raisin bran flakes and all bran  . . .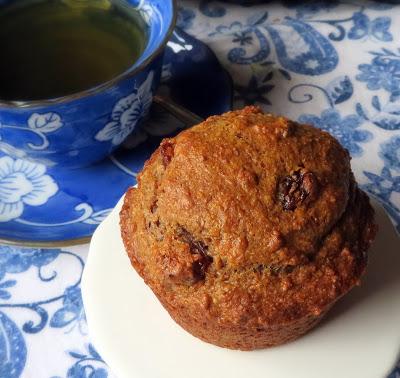 Buttermilk helps to keep them deliciously moist  . . .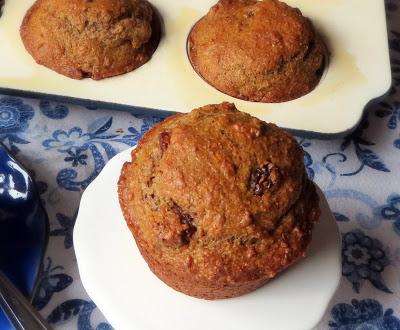 You simply mix up the batter and keep it stored in a covered container in the refrigerator, ready to scoop out and bake as and when you want some, and as many as you want each time.   I tend to bake them six at a time, which works for us.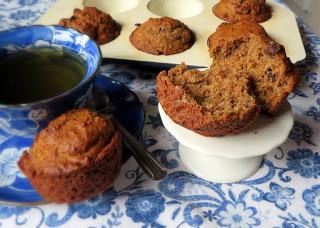 They have a beautiful texture and flavour!  Most Bran Muffin recipes rely on molasses for flavouring, but this one doesn't,  nor does it have brown sugar in it.  It does use cinnamon however and some vanilla.  Very tasty!
Refrigerator Bran Muffins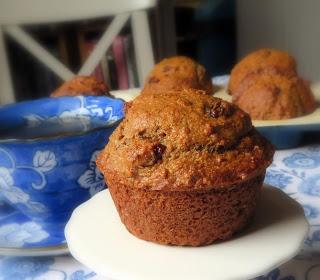 Yield:
Makes 8 cups batter
Author:
Marie Rayner
prep time:
cook time:
total time:
This mixture is really handy to have in the fridge, ready to bake up fresh muffins whenever the mood strikes you.  In truth, these muffins are so very good, that the batter never lasts as long as six weeks!
ingredients:
1 cup boiling water (240ml)
2 cups raisin bran cereal (120g)
1 cup all bran cereal (40g)
1/2 cup plus 1 TBS vegetable shortening, melted (110g + 1 TBS)
1 1/2 cups sugar (285g)
2 large eggs, beaten
2 cups low fat buttermilk (480ml)
2 1/2 cups whole wheat flour (350g)
1 1/2 tsp of baking soda
1 1/2 tsp salt
1/2 cup chopped toasted pecans (Optional) (60g)
1/2 cup extra raisins (or even more if you wish. I like lots of raisins in mine.) (75g)
1 tsp cinnamon
1 tsp vanilla
instructions:
Mix the two Bran's in a large bowl. Pour over the boiling water. Let stand for about ten minutes before stirring in all the remaining ingredients in the order given. Store in a covered container in the refrigerator for up to six weeks.
When ready to bake, pre-heat the oven to 200*C/400*F. Butter whatever size muffin pan you are using generously. Scoop out the batter into the muffin cups filling them 2/3 full. Bake for 20 minutes. Let sit in the cups for about 5 minutes before loosening the muffins and tipping them out onto a wire rack. Eat warm. Delicious!
Created using
The Recipes Generator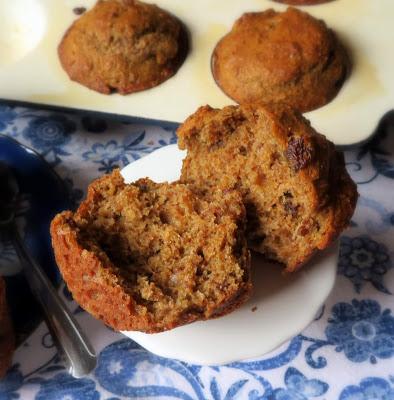 I am not sure where I got the original recipe from, but I strongly suspect it was from either a cereal box or a newspaper clipping. I might have also gotten it from a community cookbook.  Do note, that for the smaller family, you can cut the recipe quite successfully in half, which is what I normally do.  I hope you will give them a go!  If they are good enough for Mrs B, then they are really VERY good full stop as she was quite picky  when it came to what she ate.