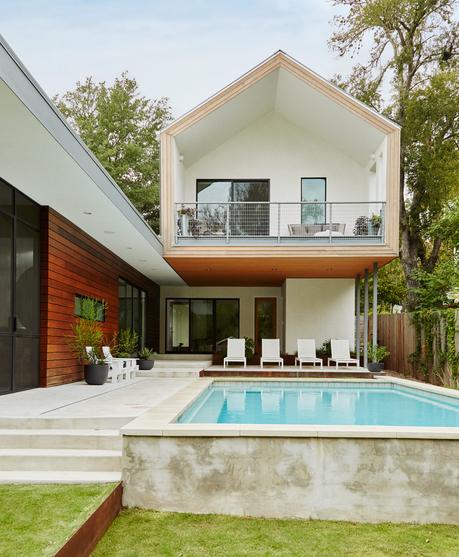 Architect Burton Baldridge's design for a house in Austin features a cantilevered upper volume with a gabled profile that was in part inspired by the work of Dutch architects MVRDV. It juts out over the patio, outfitted with chaise longues by Harbour Outdoor and Adirondack chairs by Loll.
Project  Buford Place Architect 
Baldridge Architects
Landscape Architect  Studio Balcones
Amid nondescript bungalows, countless construction sites bearing boxy building frames have come to characterize Austin. The census estimated it to be the fastest growing U.S. city from 2010 to 2013, and this Texas town is booming with new architecture designed to house its burgeoning creative community. 
Since forming his practice 10 years ago, architect R. Burton Baldridge has found a niche in Austin's energized building environment. "I like to be able to reduce a design to a concise sentence," he says. "If you can't immediately decide what we're trying to do in a limited number of words, it's going to be muddied when we're finished." His office building, a white cube with slim cutout windows, sums up the firm's bold and clear style.
The house that Baldridge designed for Matt Parkerson and Katie King in the Zilker neighborhood—one of the destinations for the city's young, eclectic residents—employs a similarly strong gesture. A gabled upper level, wrapped in vertical grain pine, cantilevers toward the street. Wanting to do a spin on a common building form in Austin (two boxes stacked together, the go-to profile for modern construction in the area), Baldridge decided to add a contemporary interpretation of the traditional gable. Matt and Katie, building their first custom home after years of living in a nearby spec house, purchased new but lacking any personal details, were delighted. "They were expecting a flat-roofed building with a modern form," Baldridge says. "I showed them what I really liked; it was like a child's drawing of a house. They were completely in."
The upper level only overlaps with the first floor over 415 square feet, framing the outdoor spaces and setting the tone for the house. In front, it hovers over the driveway, doubling as a carport. In the backyard, it covers a patio, which the residents and their dogs, Peanut and Hugo, use year-round. The cantilever is a boon in summer, ensuring that a patch of shade can always be found. 
Matt, a political consultant, and Katie, the head of sales for the city's South by Southwest Interactive festival, wanted a house with multiple opportunities for gathering, both indoors and out. "We have lots of friends, and we don't have children, so we like to hang out and entertain," Katie says. The couple requested a swimming pool and a screened-in porch—the first a solution for Austin's unbearably hot summer days, and the second to keep out its rampant mosquitos. 
Baldridge's design casts the ground floor as a seamless loop of public spaces, unveiling countless options for indoor/outdoor living. While Matt and Katie prepare a make-your-own taco bar in the kitchen, they can keep an eye on their guests as they sit in the living room or lounge in the sun on the patio. When they don't have company, the couple can eat breakfast on the porch while their dogs run on the lawn. "Burton really knocked it out of the park in terms of creating outdoor spaces," Katie says. Adds Matt: "He took it to another level, and we were like, 'Wow, that's a lot of outdoor space!'"
Down the line, the duo plans to add a grill and a wet bar, to fully transform the house into a multifunctional entertaining machine. But for now, they are enjoying being able to call the striking new home on the block their own. "I think it sits within the neighborhood, even though it's unapologetically modern," Matt says. "It's not too overwhelming for the existing area. It's a hair weird almost, and we really like that."   
Log in or register to post comments