My friend Bill Pennell reflects on his heritage as he considers Independence Day 2020.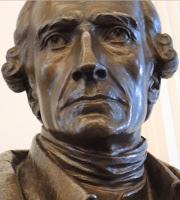 Patrick Henry
E. William Sievers, Sculptor 1932
I consider myself patriotic. There is an American flag flying outside our house at this very moment on the 4th of July. On my mother's side of the family, I am descended from men who fought for our independence. Patrick Henry was the family's solicitor at the time, and yes, they were slaveholders. And on both sides, I am descended from men who fought on both sides of our Civil War.
Yet I recognize that our country is not perfect. Some things we have done and stood for do not hold up to scrutiny by contemporary standards. And some of them did not hold up to scrutiny by the standards of the day. As Patriots it is our duty to "see things whole" as John Wesley Powell put it. We need to recognize our virtues and our shortcomings and to do what we can to correct the latter.____________________________
William T. 'Bill' Pennell
served as director of the Atmospheric Science & Global Change Division at Pacific Northwest National Laboratory in Richland, Washington.