A few weeks ago, Hartch and I were having a well deserved beer after our exertions playing for Northern Writers United up at Birtley Town.  There was a game going on behind us, the home team taking on the mighty Ryton & Crawcrook Albion, both of the Northern League. Despite it being a pre-season friendly, we noticed how well the game was flowing, how little arguing there was and in general the good nature of the game.  It was only then that we noticed the referee.  She was female.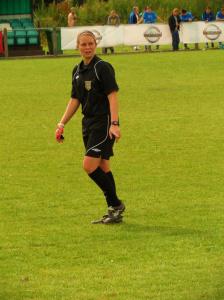 I normally see around 100 games a season (98 to be exact in 2010/11) yet I have never seen a female take control of a game.  I asked Andy Hudson who she was and he told me all about Linzi Robinson, the lass in the middle.  Impressive stuff indeed and knowing a fair few females who know more than most about the game I watched on as she kept the game flowing despite a few "tasty" tackles, having earnt the respect of the players and managers alike.
With the rise in both media focus and popularity in the last few months of the female game after the events of last season it was an opportunity too good to miss to find out a bit more from Linzi on her assent up the officials ladder.  So we sent our girl in the north, Christa, to meet Linzi and talk about life in the middle.
So Linzi, how did you get started in your refereeing career?
Football has always been something I have done, whether watching or playing.  When I was a player I was that one who was always questioning the referee.  So when I decided to give up I just decided to do a referees course.  As part of the course you have to referee six games, and my mentor was one of the assessors in the highest levels of the womans game and he seemed quite impressed with my performance. I started off in a Mens Sunday League in Durham and progressed up through the leagues.
What do you enjoy about refereeing?
Referees are there for a reason; without them there would be no game so I enjoy the whole package – the game and the banter. I've been on the other side of the coin when I have turned up to play and the referee hasn't arrived and I know how disappointing that is.  Sometimes events do get you down but they are a minority of the time.
What are the most worst aspects of being a referee?
Probably the stereotype that we are not there to allow people to enjoy the game or that we have a chip on their shoulder.  I don't take anything personally these days.  We all have bad days and sometimes players may just be trying to escape from their partner indoors, only to find that they have a female referee!
How do you deal with personal comments from the sidelines – managers and the crowd alike?
Times have changed fortunately.  I do look younger than I am and sometimes this works against me as managers think I may not be experienced enough. I am very clear in laying down my guidelines to the managers prior to the game.  A couple of times when things have appeared to be getting a bit much I have stopped the game when the ball has gone out of play and had a word with the bench, making it clear they need to pack it in. My job is about the 22 players on the pitch and not those off it.  I know they want to win and it does get competitive and that is why we all love football.  Apparently I do have a "look" about me and this sometimes is enough.
What has been your best achievement to date?
Last season I got my first promotion, although I wanted to go a bit further.  However, I got a county cup final which was really pleasing.   I am hoping this season I have a good season and get another promotion.
So what would be the aspiration or pinnacle for you?
I am quite realistic and I do not think we will ever see a female Premier League referee.  It would be great if it happened, but I think the men's game is different to the female game.  I do get challenged more in men's game at the moment.  Who knows I could be the next Sian Massey, albeit a Geordie one!
Following on from that last comment, what was your view on the whole incident?
When I knew she had been chosen for the game I made sure I watched it on TV.  I thought she was spot on with everything.  I didn't see the aftermath for a while, and didn't think much of it at first.  Then the following day my phone went mad, and people wanted my views.  The media went out of control, but as an FA official I couldn't comment.  Interestingly enough the whole incident had a positive effect as we (local FA) started getting more enquiries from females wanting to be referees having seen what a good job Sian did.  
How do you feel that the recent Womens World Cup, and Japan's win is significant to the game?
It was one of the best football tournaments for a long time,  and undoubtably the best ever women's tournament.  Germany did a great job in hosting it and what it did show is how many other countries are now starting to catch up on the traditional female powers of Germany, USA and Brazil.  Japan won the tournament in spite of all of the things that have happened to them in the past year, playing the game as it is supposed to be played.  I wish I was a betting person because I thought Japan would win the tournament.  It did show that the game is being played at a high standard across the world.
The World Cup Final was the "most Tweeted event ever" according to the Guardian (over 7,196 per second apparently!). How do you think Social Media is changing the way we view/think about football?
As a "tweeter" myself I think it is massive. The fact that you are gaining more knowledge about football in other areas of the country you can get a feeling as to what is going on.  It is a massive bonus and is helping to promote the game.  
How would you sum yourself in a 140 character Tweet?
Very Passionate supporter of female (and male) football. Honest Geordie who just wants football to be progressing forward.
Many thanks to Linzi for sparing her time and being so forthright in her views on the game.  You can hear the whole interview by clicking on the link below.