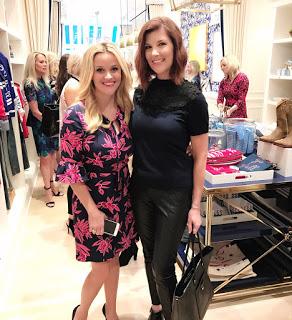 Reese Witherspoon and Cynthia Smoot
Draper James - September 28, 2016
In the video below, Reese Witherspoon introduces the world to
Draper James
by saying, "Pretty please: it's not just a way to get what you want. It's a lifestyle.... You only get one life, so let's make it pretty...please." The brand's mission is "to bring contemporary, yet timeless Southern style to your wardrobe and your home, no matter where you live."
Although clearly, Witherspoon knows where her customers reside because her first retail location was launched in Nashville in October 2015 and she recently opened her second in Dallas inside tony Highland Park Village. Named after her grandparents, Draper James celebrates what Witherspoon sees as a renaissance in Southern style, featuring playful dresses, tops with bejeweled collars alongside candles, engraved julep cups and embroidered linens.
In October 2015, Witherspoon told Garden and Gun magazine, "Every Southern woman I meet is always so pulled together. I'm just saying you don't see a Southern woman standing in the airport in sweatpants. (
Clearly she hasn't flown commercial in a while...
) You just don't. Even when they are stressed and their kids are swarming around their legs, they do things with grace. It's how we were raised. We all have those lessons of what your mother or grandma told you was "appropriate" or "attractive." That idea is quintessentially Southern... Women in the South do "unapologetically pretty." It isn't edgy. Or urban. It just makes you feel ready to take on the world."
Draper James CEO, Andrea Hyde, told me at the store's official grand opening today, "(Coming to Dallas) felt like a magnetic attraction. We have a fluid two-way dialog through social media with our customers and it felt like an obvious decision." She went on to say that Draper James is a fresh take on Southern heritage and she feels it blends perfectly in Dallas with our love of color and prints. I asked how involved Reese was with the design aspect of the brand and Andrea laughed and said, "Oh, she's involved, believe me! She's the Founder and Creative Director of this brand and she touches everything that we do - and she's uncompromising. She really raises the bar. I mean, not only does she understand the fit of clothes but she's very involved in the selection of color and the prints and the silhouettes. There really isn't anything that she doesn't touch." Almost everything in the store in under $350. Draper James is really an accessible brand as a whole and I asked Andrea about the decision to follow that path. "We wanted to be an inclusive brand without losing quality, so marrying the two of those things was important." You can visit Draper James at Highland Park Village located at 6 Highland Park Village, Dallas, TX 75205
Reese's dress, my top and Tennessee Tote are from Draper James
Face by Blushington 
đŸ'‹