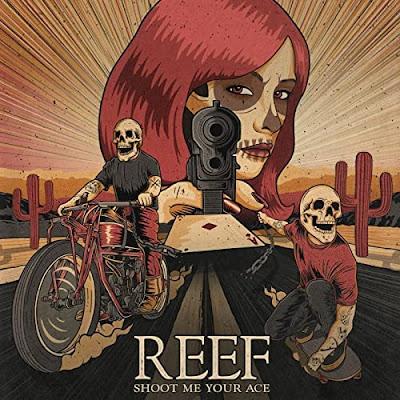 Reef emerged during and were wrongly lumped in with Brit pop explosion which left them with an identity problem. Do they embrace the lad culture of the time and a fickle indie crowd or cultivate a more loyal rocklong-term fanbase? A piss poor attempt by the mainstream rock press to label them and others such as Skunk Anansie and Terrorvision "Brit Rock" muddied the waters further. Landing a major record deal and a massive hit single with "Place your hands" and a number one album with "Glow" Support slots with Paul Weller, Soundgarden, the Rolling Stones followed. Main stage appearances at Reddening (3 times) and Glastonbury (4 times)the future looked guaranteed for the Reef boys then after two more diminishing return albums.... Then nothing.
Sporadically reforming to play live but when mercurial guitarist Kenwyn House quit in 2014 to concentrate on his band new band Goldray (also excellent) it looked like it was all over. Recruiting Jessie Wood (son of Ron) on guitar Reef quietly kept gigging. They released a couple of live albums and reduced to holiday camp weekenders with brit pop no hoppers Dodgy and I kid you not, a tribute act called the brit pop boys...It's a cold heart indeed that would not feel sorry for Reef.
With new music being released in 2016. Revelation was at best a solid gospel-tinged rock album. Drummer Dominic Greensmith retired in 2018 leaving only vocalist Gary Stringer and bassist Jack Bessant from the original line up. It was announced they would be working on a new album with Andy Taylor of Duran Duran fame I groaned inwardly. It was a long way down from renowned producer George Drakoulious. it looked like an act of desperation. It's turned out to be an inspirational move and one that has super charged their music.
Taylor always a less than secret rocker doubles up here not only producing but playing some fiery guitar to counterbalances Jessie Woods more soul influenced rhythm playing. Reef set out their stall from the get-go. Title track Shoot me your Ace lays down a riff to get your feet moving and Stringer is at his throat shredding best. It takes of like a grey hound and is a brilliant opener. Reef has embraced their Rock side. The titles tell you exactly what you're getting. Best of Me, Wolfman, Hold back the Morning. The lyrics take in the love of a good (or bad) woman and the joy of just rocking out...that's it...which in less skilled hands would sound trite but here sound like a real celebration. The sound is huge, and the feeling of vindication runs through the album. This is a band with something to prove and they did it with massive amounts of panache. It loads the songs with choruses that are sing along and catchy. These are designed to be sang by an audience along with the band, none more so than a solo written Right On by bare footed, bearded, cosmic surfer Jack Bessant which is as laid back as this album gets but sums up the Spirit of Reef beautifully. Extended Jam (by Reef standards, 6 minutes+) Strange Love brings it to a close.
With a sold-out U.K. tour completed and an upcoming tour supporting the comeback kings the Black Crowes maybe Reefis still to have their well-deserved dues. They certainly deserve better than a rain-soaked weekend in Bognor with a drunk nostalgia man child crowd reliving the 1990's. Either way It is their best work since Glow. It landed in the U.K. Album charts at 20. Their heist position in twenty-two years. They never went away so it is unfair to call it a comeback but it's a return to what they do best. Great rock songs delivered with buckets of charm and skill. It's Loaded with enough hooks to catch a school of sharks. As Reef sing without a hint of irony but an undoubted big smile on their faces "There's a whole lot of something waiting on the next page/Rockin' out till the morning/nothing's gonna' stop us tonight"
Welcome back boys.