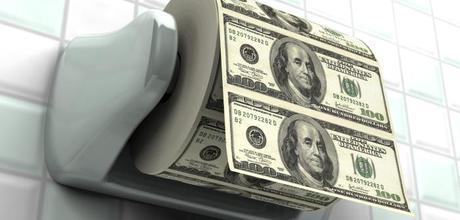 15 Most Expensive Things , That You Will Never Need
0
The unbelievable  prices of some of these ridiculously useless  items will have you shaking your head if you've ever had to work a day in your life. Some of these crazy items include everyday stuff like pizza or tea, but some are so strange and unreasonably bizarre that you will not be able to understand why in the world would anybody need such a thing.
Now you are probably thinking exclusive hotels or luxurious Lamborghinis, well think again. How about 18 carat gold bra? Or  diamond studded cricket ball ? That is more like it!
Here's a list of most expensive things which are sort of useless and serve no purpose. Just because we all want to solve the problem of world hunger! Right?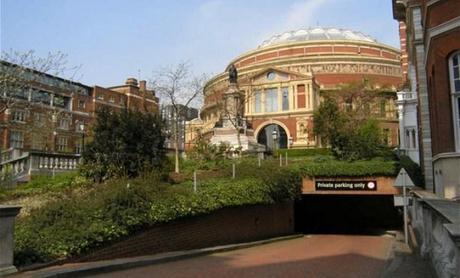 Britain's most expensive parking place- on sale for £400,000.
Ah, don't you just hate not being able to find the right parking spot, especially in big cities?! We understand you. That is why we present to you the Britain's most expensive parking space, located near London's Royal Albert Hall  and  will cost you just $669 680. To give you some perspective of how good of a deal this is, consider that it is nearly 2.5 times the cost of an average UK home, 15 times the average UK salary of £26,500 and for the same amount of money, you could afford to park a car 880 yards away at the nearest NCP car park for 31 years.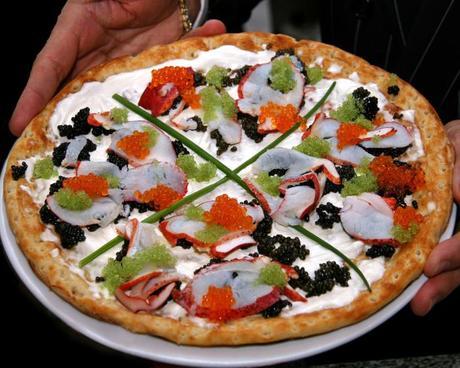 Nino's Bellissima, New York city – $1000 pizza.
-Let's start of with some delicious pizza. One of the world's most expensive pizzas was made by Nino's Bellissima Pizza (located in New York City). This restaurant is home of one of the world's most oft-cited expensive dishes — a pizza that costs $1,000. As a manager explains, the pizza comes topped with four types of caviar plus some lobster tail for good measure. Order it a few days in advance.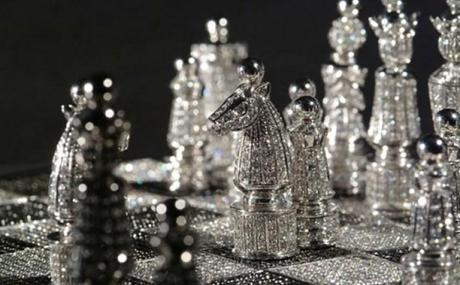 Charles Hollander Chess Set- $600,000.  
Renowned French artist and master of jewelry, Bernard Maquin created the Royal Diamond Chess set in 2005 bringing the game of chess to a whole new level. Thirty craftsmen, under the direction of Maquin spent over 4500 hours creating the expensive chess set. The work was done all by hand and when it was completed, the artists used 1168.75 grams of 14 carat white gold, and approximately 9900 black and white diamonds, bringing the total weight to 186.09 carats.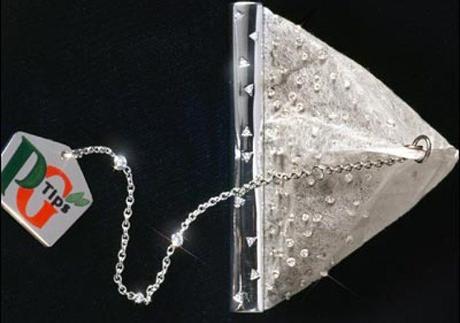 PG tips diamond tea bag – $14 000.
 Would you like a cup of tea? How about a cup made from a tea bag that is diamond-studded? This diamond teabag which is valued at around $14,000 was made by Boodles jewelers to celebrate PG Tips 75th birthday. The tea bag was hand-crafted using 280 diamonds.  However this fancy tea bag was auctioned in order to help raise money for Royal Manchester Children's Hospital. So thumbs for this one.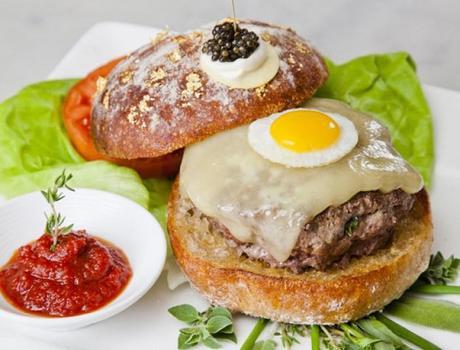 Le Burger Extravagant- $293.
You don't like pizza? No, problem, there are hamburgers too. This is the first of three expensive food entries courtesy of the infamous Serendipity 3 in New York. Le Burger Extravagant is made of a Wagyu beef patty that's infused with 10 herbs and white truffle butter, subtly seasoned with Alderwood smoked Pacific sea salt. It's topped with black truffles, a fried quail egg and cheese. But that is not enough, oooh no! Holding this extravagant burger together is a gold encrusted, diamond studded toothpick. The burger is served with a blini, crème fraiche and Kaluga golden caviar.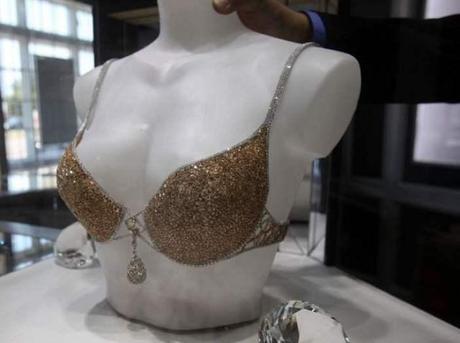 The Birmingham Estate and Jewelry Buyers 18-Carat Gold Bra Set
-If you're looking for something seductive to slip into, how about the Birmingham Estate and Jewelry Buyers 18-Carat Gold Bra Set? Shaped entirely out of solid gold and embellished with over 500 carats of hand-cut diamonds. For those looking to rid themselves of $1 million $$$, then 750 grams of gold and 501.46 carats of multi-hued diamonds, is the long-awaited solution. World hunger? Working on it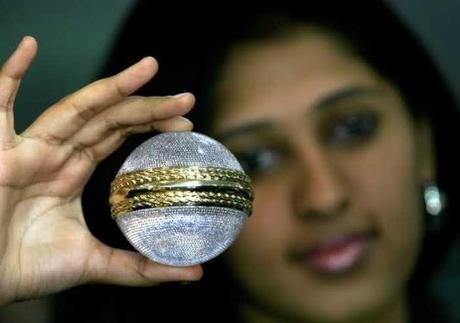 Gitanjali Gems Limited cricket ball - $68,500 
Gitanjali Gems Limited created a diamond cricket ball embedded with 5,728 Diamonds with 18-Carat gold stitch.  This ball was presented to the Best Indian and Best International players at the 2007 Cricket World Cup tournament. And you thought that India had poverty problems?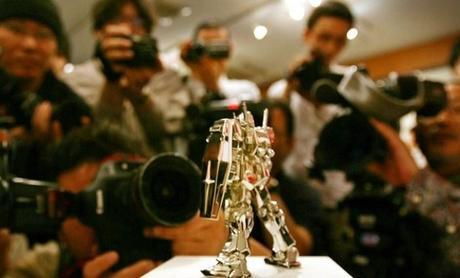 Gundam Fix Platinum Robot- $250 000 
The Gundam Fix Platinum toy robot stands only 12.5 centimeters but weighs 1.4 kilograms due to its 89 parts made from 1,400 grams pure platinum. The robot's eyes was made of 0.15 carat diamond. But just like mint boxed toys, the most expensive toy robot is ironically not meant to be played with. Toy was made back in 2007 and today is valued around $250 000 but do not reach for your wallet, it was only made to promote a retail version.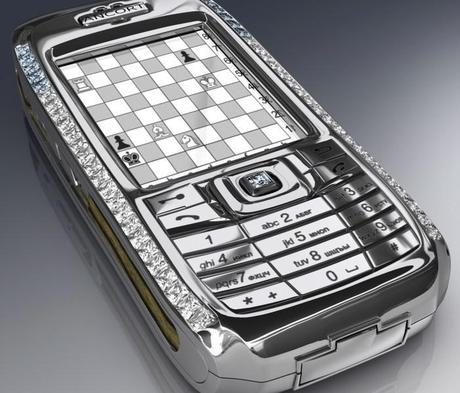 The Diamond Crypto Smartphone – $ 1 300 000
 Russian firm, JSC Ancort, has developed a Windows-based smartphone made out of platinum and rose gold with over 80 diamonds on it. They created it "provide secure protection of information against kidnapping, technological blackmail, financial racketeers and corrupted state officials".  But why would any bright minded thief kidnap you, when he can just take your phone? We don't know either. Russians…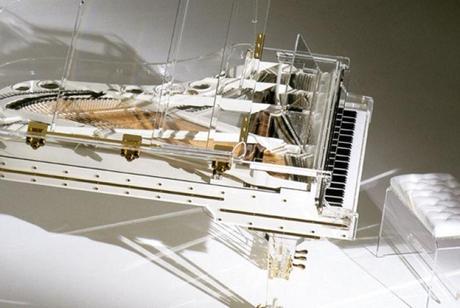 Heintzman Crystal Piano – $ 3 220 000
 -This crystal grand piano by Heintzman was auctioned and purchased by a private bidder for $3.22 million! Nothing strange there, guy loves quality music. The piano was played by renowned pianist Lang Lang during the Opening Ceremony of the Summer Olympics in Beijing in 2008.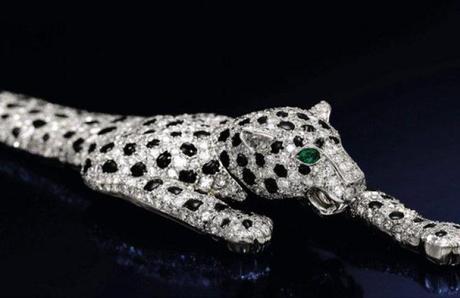 The Wallis Simpson bracelet- $7 000 000.
Jewellery that charted the love affair between Wallis Simpson and Edward VIII . The star piece of the Edward VIII's collection was the striking onyx and diamond panther that curled around the Duchess of Windsor's wrist.It went for an astonishing £4.5million after a nail-biting battle between two telephone bidders, making it the most expensive bracelet ever sold.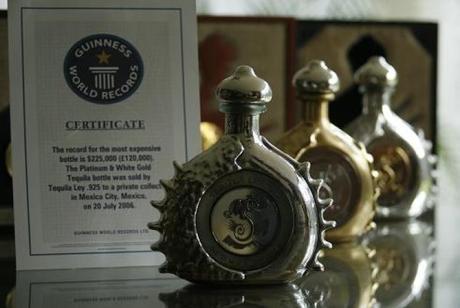 Tequila Ley- $225 000
On July 20, 2006, Tequila Ley .925 sold a single Platinum and White Gold tequila bottle for $225,000 to a private collector in Mexico City, Mexico. The liquor was made out of 100% blue Agave liquid and was aged for six years. The company won the Guinness Book of World Records title for the most expensive bottle of liquor sold in the world. For those of us who can't afford the Platinum bottle, the company also sells the Gold and Platinum bottle for $150,000 and the Silver & Gold bottle for $25,000.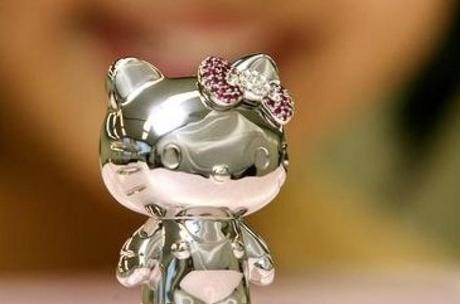 Platinum Hello Kitty- $150,000.
Next in the list is absolutely useless money waters is Hello Kitty figurine, only one of its kind, created by the company Sanrio. This was specially made for those who think Hello Kitty has just a cliché pink and white color and is apt for baby girls. This Hello Kitty is different from other ones as it is made of pure platinum and has seven jewel pendants that are made of rubies, pink sapphires and diamonds.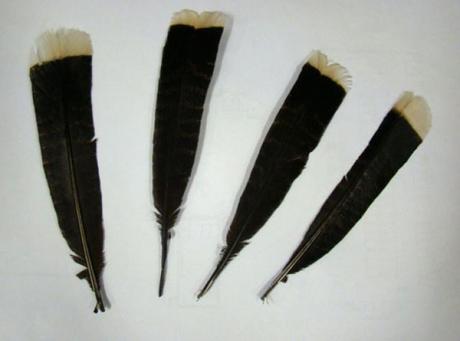 Extinct Huia Bird's Feather -$8,000.
 -  The Huia bird is thought to be extinct and has not been seen since 1907. The feather went under the hammer at Webb's Auction House in Auckland. Believe it or not a single feather was sold for bit more than $8000. How can you be so selfish and judge the person who bought it? He just loves feathers, nothing wrong with that.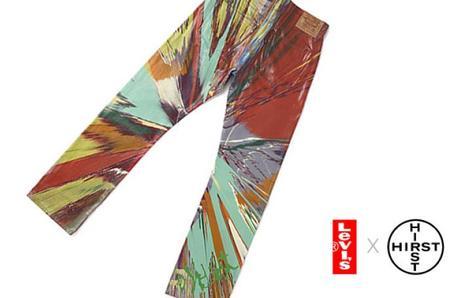 Spin Jean by Damien Hirst- $27 000
We will finish our list with the most useless think we came across. How about a pair of ugly jeans for christmas? Levis teamed up with Damien Hirst to create these colorful pants. Only 8 were made so it's a collectible. But for the huge price of $27.000 I could buy clothes for the rest of my live.