The kind of bathroom that you have at home reflects your taste and lifestyle too. It is a place that not just addresses all your needs, but also carries an attitude. You may not necessarily have an extra-spacious luxury bathroom at your disposal that can feature on designer magazines. Small arrangements like slabs, faucets, tap colors, metallic wall decorations, toilet seats and shower screen rearrangement can actually lend a more defined and stylish look to your bathroom.
Decide on the basics
Apart from the external aspects, the sewage, the tap-lines, the small drainage pipes and the fixtures must be checked by the professionals while you go for Affordable bathroom renovations. Once you have the basics in place, you can now opt for accessories in Affordable bathroom renovations.
With first things coming first, calculate the amount of money that you can invest on renovating your bathroom.
Try to avoid the use of tiles if you are looking for cost-effective solutions. Tiles, apart from being expensive will also have to be laid out with the help of professional workmen. In most cases, the charges for laying out tiles exceed that of the cost of the tiles themselves.
Try to make use of paint as much as possible. Apart from being less expensive, it is also water proof, and will provide a certain degree of protection.
Painting your bathroom is a do it yourself job that you can complete over a couple of weekends in case you do not have time during the weekdays.
The use of custom made vanities will save both on money, as well as time when you are on a toe string budget renovation of your bathroom.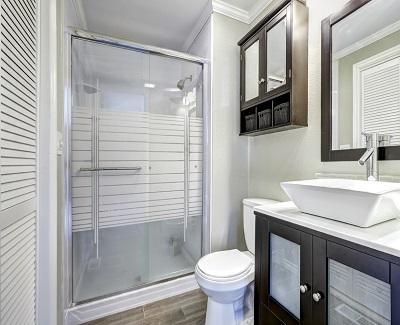 The electrical wiring and connections need to be installed by the professionals, so decide about that while you start thinking about the plan.
Light and color
When you start planning in terms of the paint color, choice of vanity and other simple accessories, think both in terms of functionality as well as décor.
Painting your bathroom in dark stripes may give it that additional colorful look. But make sure not to use too much of dark paint, as light colors reflect more light and will ultimately give the optical illusion of more space.
The right kind of light will also give it a better look. Make sure that you place enough light over the basin area. In case of a small bathroom, this light should be enough for the entire space.
As an alternative, you can use sconces which will give an attractive look and yet maintain your overall budget.
Be practical too
Not all bathroom renovations job can fit into the do it yourself category. As far as the tiles are concerned, you can always try to combine mix and match styles, traditional intricate varieties or else include modern geometric and asymmetrical designs also. Ceramic and vinyl tiles have become much popular and you can discuss with your bathroom renovations professionals to get a desired idea about how to remodel your bathroom.
Set aside a budget for professional services that you will need.
Avoid unnecessary accessories like rails for towels and soap-dishes. They end up increasing your cost many folds.
Be practical and look for a handle that will couple both as a handle as well as a Towel-rail.

Make choice within budget
If you do not wish to paint your floor, then look for vinyl sheets that are slip resistance and waterproof as well. Whatever be the size of your bathroom, make sure to have about 4 watts of light per square foot area. Proper lighting and ventilation are must haves in wet areas like the bathroom. Proper ventilation will also prevent decay as well as fungi formation. Moreover, you should not forget the door knobs, the handles and the texture of the bathroom cabinets.
If you want to get more details on bathroom renovation then let's have a look and give stylish look to your bathroom.