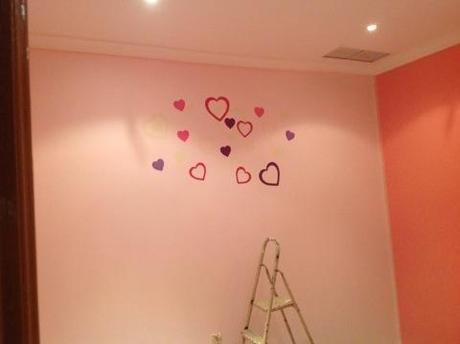 Since I returned from vacation, I've been decorating….. REdecorating. First I started with my sala, (pics to follow), then my hall (pics to follow), then my room (pics to follow) and then finally Alooi's room. I started with a salmon pink on one wall and attempted to draw some pretty little hearts, it was impressive so I continued to the next wall but changed to a baby pink. She loves it, it's adorable, girly but not too babyish. Oodie's room and the two guest rooms will be next.
Few pointers to remember along the way.
1. Wear a shower cap, it's unbelievable just how much paint sprays off those rollers and onto your hair!
2. If you want to be really fussy- wear gloves.
3. It's all about preparation when it comes to painting! Masking tape is a must!!!
4. Cover the floor, don't try to be smart, spilt paint is NOT easy to get out of a cream carpet!
5. The most important of all…….MUSIC!! Throw on your favorite tunes and get painting!