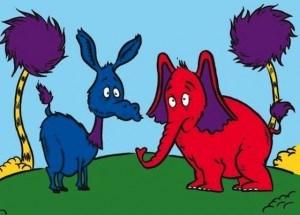 Which looks more reliable?
With 30 days or so to go, it is getting to the point where we actually have to decide whom to vote for. For some of us, the question is whether to vote at all given the choices. This election season it is downright depressing. Nonetheless, sitting at home and hoping for the best is not an option. Locally we are blessed that our lawns are not covered by the usual amount of candidate signs. Both the RTC and DTC have decided to pretty much sit this one out. The DTC wasn't even able to field a candidate to oppose Kevin Kelly in the 21st Senate District (Whattsamatter, DTC? It's either Miron or nobody?). But at least the DTC website is up. The same cannot be said for the RTC website. Of course, the DTC has no mention of Obama, Murphy or DelAuro anywhere. Not even a link. Again we ask what do the RTC & DTC have to do with Democrats or Republicans?
What few local elections there are, like the 120th and 121st State Representatives, have the same old pols we see running in every election.
Which leaves us with the Federal elections…..