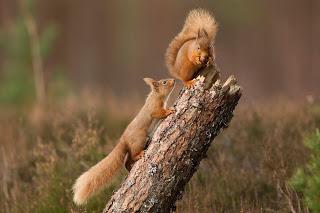 Red squirrel © Peter Cairns www.scotlandbigpicture.com
A project by Trees for Life relocating red squirrels to their old forest homes in northwest Scotland has been boosted by evidence of breeding and natural expansion by the new populations.
The conservation charity is re
introducing squirrels to suitable native woodlands in the Highlands, from which the species has been lost. Because reds
 travel between trees and avoid crossing large open spaces, they can't return to these isolated forest fragments on their own.
"
Early indications are that this could be a real wildlife success story.
 The
 new squirrel populations are not only flourishing and breeding in their new homes, they are also starting to spread out into new areas – with squirrels being sighted as far as 15 kilometres away," said Becky Priestley, Trees for Life's Wildlife Officer.
The project's initial relocations took place between the springs of 2016 and 2017, with the first 33 squirrels
 from Inverness-shire and Moray
 released at 
Shieldaig in Wester Ross. This was followed by 22 more released at the Coulin Estate next to Beinn Eighe National Nature Reserve near Kinlochewe, and 30 at Plockton, which is owned by landowners including The National Trust for Scotland.
Trees for Life
 now 
has evidence of the relocated squirrels breeding two years in a row at Shieldaig, and also of breeding at Plockton.
N
atural recolonisation of other areas appears to have begun from Shieldaig. During 2016, the squirrels spread throughout much of the habitat, with one sighting 13 kilometres away beyond Loch Torridon. There have been further sightings in the same area during 2017, and others two kilometres further away, at Inveralligin.
Although annual monitoring at Coulin and Plockton will not begin until next spring, Trees for Life has seen evidence of feeding across the Coulin woodlands, and has captured images of squirrels by using specialised cameras. There have been regular sightings at Plockton since the release earlier this year.
Some squirrels also appear to be traveling quite widely from Plockton and may be colonising other areas. One was seen recently near Nostie, about eight kilometres from the release site, and there has been evidence of feeding at the National Trust's Balmacara office, more than five kilometres away. 
This autumn further releases are taking place around Lochcarron, with squirrels going to the remote Reraig peninsular and to Attadale. As with the other relocations, local people have been keen to get involved.
Positive community involvement – including local people reporting sightings, monitoring the squirrels, and carrying out supplementary feeding – is at the heart of the project.
In the UK, red squirrels are now rare with only an estimated 138,000 individuals left. T
heir numbers have been decimated by the reduction of forests to isolated remnants, and by
 disease and competition from the introduced non-native gray squirrel.
Trees for Life's 
Red Squirrel Reintroduction Project aims to 
expand significantly the numbers and range of the UK's red squirrels, by establishing eight new populations of the species.
With animal welfare paramount,
 s
quirrels are transported in special nest boxes, lined with hay and containing food and apple for hydration. Only small numbers are removed from any site, to leave donor populations unaffected. Health checks ensure that diseased animals are not introduced to new populations.
The boxes are fixed to trees at the reintroduction sites, with grass-filled exit holes allowing the squirrels to leave when ready. Food is provided for several months 
as the squirrels get used to their new habitat.
Annual monitoring involves observations of feeding signs, drey surveys and sightings records.
I
ncreasing red squirrel numbers benefits native forests, as red
 squirrels collect and bury thousands of tree seeds each autumn, which are often forgotten by the squirrels and can then take root.
To find out more about Trees for Life's award-winning work to restore
 the Caledonian Forest and rewild the Highlands, visit 
www.treesforlife.org.uk.