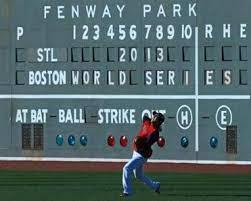 Couple of thoughts on last night's game 1 win:
1.  Lester looked great.  All this talk about the Cardinals staff went out the window by about the 4th inning.  Sure Lester got into a little trouble at times, but he was locked in last night.  Guy has been through some serious shit in his life and pitching game 1 of the World Series is probably just another day at Fenway Park.  I'll take that guy any day I can get him.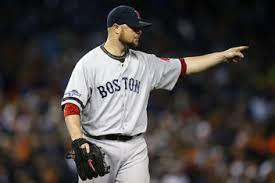 2.  Scoring runs early helps.  This is something we didn't do against the Tigers.  This was also the first time in forever that we gave our starting pitcher a nice cushion to work with.  Pitching with a 3-5 run lead means you can attack the strike zone more often because you've got some wiggle room.  Lester looked completely in control working with a lead.
3.  Think about it, Papi basically went yard twice.  Carlos Beltran made a ridiculously good catch at the wall to keep the Cardinals from being completely blown out of the building.  That guy may have been quieted by the Tigers pitching but he's made it quite clear that he'll be heard from in the World Series.  He's too good of a hitter to be silenced on the biggest stage.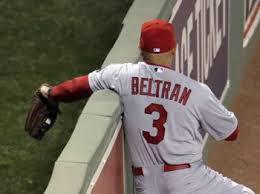 4.  Defense wins championships.  Maybe not so much in baseball, but it certainly helps.  The Cardinals made mistake after mistake in the early innings and dug themselves a hole they couldn't get out of.  Meanwhile Gomes makes a diving catch in left, Lester, Ross and Napoli turn the first 1-2-3 double play in World Series history and the Sox were on their way.
5. Finally, I'm glad the umpires got it right.  Next year, with instant replay fully entrenched in the game these issues will be resolved without conflict (in theory.)  I get that the Cardinals and their fans were upset with the changing of the call, but you have to get it right in the World Series, don't you?  Kozma never had that ball and the umpires did the right thing.  All of the people saying the umpires shouldn't have done it after Farrell talked to them are stupid.  They didn't have any time before he came running out of the dugout to protest.  The Cardinals would have done the same thing in that position.  The call was right, let it go.
6.  How about that 7th inning stretch?  How about that "God Bless America?"  Straight chills when this happened.
And how about the salute?  Hot Fire.
Bonus!  Shout out to Overthemonster.com for plugging B'More2Boston!  Don't know how they came about my blog, but being on the same page with writers who get paid to do this stuff is pretty cool.  It's also cool to look back at what you wrote and see how the season came together for the Red Sox.  The article is a great read for anyone who's a fan of the Sox.
I don't think the World Series could have started any better than last night.  I'll take Lackey over Wacha tonight. World Series experience over the rookie stud all day every day.