This is one of my very favorite dishes.  It is full of veggies but then you add a little Italian Sausage and it makes it "manly" enough for your hubby to eat.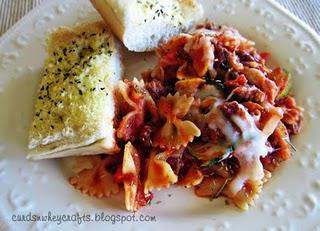 Items Needed
:
1 box bow tie pasta
1 package Italian Sausage
1 red bell pepper
1 squash
1 zuchinni
1/2 onion
Marinara (I just use 1 jar Prego, don't judge)
Garlic
Mozzarella Cheese
Cook pasta as recommended.  While pasta is boiling cook your sausage.  Once your sausage is fully cooked remove from skillet and sautee all your veggies and garlic in a little olive oil.  When veggies are done add your sauce and sausage back in the skillet.  Heat until warm.  When pasta is done mix pasta and sauce together in a 9x13 pan and top with mozzarella cheese.  Heat until cheese is melted.  Remove from oven and enjoy!