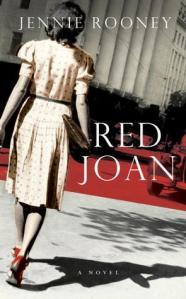 This novel is based on a true story from 1999, in which 87-year-old Melita Norwood was identified as one of the most important and longest-serving Soviet spies of the Cold War. A recent defector from Russia had brought documentary evidence with him that put her squarely in the frame, and although her case was considered by Parliament, the decision was brought not to prosecute on the grounds of her old age. Jennie Rooney was a student at Cambridge in 1999, studying with the history professor whom the defector had originally contacted, and evidently the story took a hold of her imagination.
So, the narrative opens with an elderly Joan Stanley reading her morning paper, in which an obituary appears for Sir William Mitchell, SOE in the war, subsequently an advisor in intelligence matters to the government, whose death appeared to occur peacefully in his sleep. But Joan knows better. As soon as she reads the article, she realises that something serious has finally happened to blow her cover, and it isn't long before she has Security Services knocking at her door. The two young operatives are distinctly un-cuddly, and they bundle her off to be interviewed at length. It is Sunday morning and they have until Friday, they tell her, to collect the facts of her case together before it is presented to the Home Secretary. Joan isn't sure to what extent their confident demeanour is a bluff, and she has a grown-up son, Nick, whom she is desperate to protect from the truth, as well as old alliances she does not want to betray. And so begins a game of cat and mouse as the interrogators try to trap her, and Joan is forced to recall those distant days in Cambridge in the late 30s when it all began.
As the interview unfolds, so do Joan's memories. One night lying sleepless in her room in Newnham College where she is reading natural sciences, Joan becomes aware of someone tapping on her window and asking to be let in. Standing on the sill in scarlet high-heeled shoes is the glamourous and confident Sonya, caught out after curfew but not letting that become a problem for her. Sonya takes a liking to Joan's mink coat (on loan from a cousin) and to Joan herself, who she starts to take along to Communist gatherings at the university. And it's at one of these that Joan meets Sonya's cousin, Leo. Leo is a true devotee to the cause, in the middle of an economics PhD that he hopes will change the ideology of the world, and Joan falls deeply in love with him, though not with his politics. They make an uneasy threesome, as it's clear to the reader, if not always to Joan, that the relationship between Leo and Sonya is more complicated than it appears. But Joan is entranced by their dynamism and their beauty. And then when the war comes along, it becomes apparent that Joan has always had more to offer them than she ever suspected.
I won't give any more away as the slow reveal of what happened, whether Joan is guilty or not, and if so, how she overcame her own disinclination and beliefs to help Leo and Sonya, is the best part of the book. It's beautifully plotted and contains a few surprising twists and turns.
However, I will have to admit that I did have a big problem with this book, which was distressing, as I'd anticipated it keenly and wanted so much for it to be wonderful. But by about halfway through, I couldn't help noticing that people 'whispered' a lot. In fact, it began to feel like a nervous tic, cropping up as shorthand for buried emotion time and time again. I began to dread the appearance of the word, and to wish fervently that a conversation would pass by at normal volume. Basically, it ruined the experience of the novel for me. Once I'd finished this book, I felt I really ought to collect a little empirical evidence, just to check whether or not I'd lost my marbles. So I did a count. In the last 100 pages of the novel, over the course of 24 passages of dialogue, there were 39 instances of whispering. This does seem like overuse of a distinctive speech tag. Whilst everyone whispered, Joan was the main culprit. Okay, she's an old lady, quite overwhelmed by the turn events have taken, you might think. But she whispered just as much in her youth. She may have had a lurid past, full of acts of courage and love and treachery, but she seems to have been permanently incapable of speaking up for herself.
Whether this is fair or not – and I must take my irritation into account – I was disappointed overall with the quality of the writing. In one way, this book doesn't put a foot wrong – it is a perfect encapsulation of all those unwritten rules about writing and a book that is entirely of the moment. But there seemed to me nothing quirky or original about the voice, nothing beyond its unflinching competence. Jennie Rooney – that relentless whispering aside – is a very talented writer, but whether her books will still be around in ten years, I have no idea. But please read other reviews of it as well as mine – I have yet to read a review that hasn't loved this book and I think I am very much the exception