I have been thinking about this Red Fermented Bean Curd Ribs 南乳排骨 for a long time, the last attempt was a failure because I bought the wrong type of ribs and it was not as hearty eating it.  So today, I used prime rib instead as it is meatier than baby back ribs.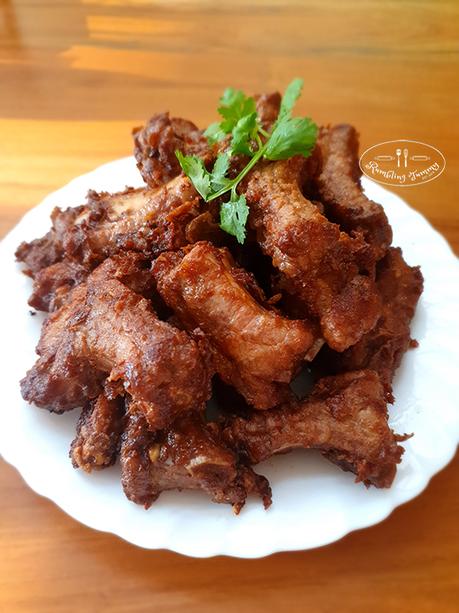 I was surprised that my fussy-eating son who only loves western food, enjoyed this and asked what I added to the ribs. 
Am glad that I cook a big plate of it.  This will goes really well with beer too.
What you need:
1.2 kg prime spare ribs4 tsp salt1 1/3 tsp baking soda1/3 cup water
5 tsp ginger juice4 clove garlic, minced
3 pcs of red fermented beancurd5 tsp red fermented beancurd water2 tsp oyster sauce1 1/3 tsp five spice powderDash of white pepper2 egg white2 tbsp oil4 tbsp plain flour4 tbsp corn flour
Method:
Combine spare ribs, salt, baking soda and water.  Rub around for 2 mins to wash.  Remove.
Rinse with clean water twice.  Drain and set aside.
Marinate the pork ribs with ginger juice and minced garlic. May add little water if too dry. 
Add marinating ingredients 1-5 to the ribs and mix well. 
Add egg white and mix well. 
Add in plain flour and corn starch and mix well.  Cover and leave for 2hrs. Best overnight.
Add enough oil and deep fry the ribs for 8 mins under medium-low heat. Drain and set aside. 
Increase oil temp and fry the ribs for 1 min till golden brown.
Enjoy!


If you have enjoyed this post by Rumbling Tummy, be sure to follow her on Facebook, Instagram, Pinterest, Twitter