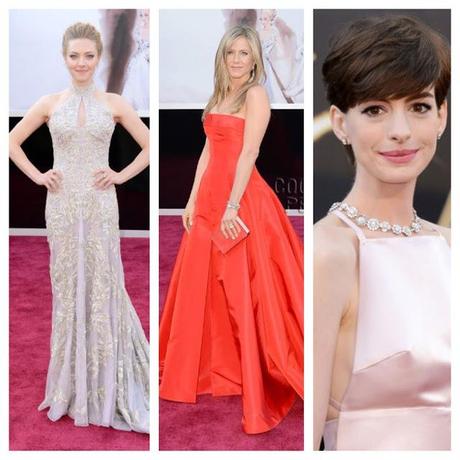 Above are my three runner ups for best dressed at this years 2013 Oscars. I know I will have some explaining to do with one of them. First up Amanda Seyfried. I think she is natural, and stunning, so in that sense she had a running head start. Pretty much anything looks good on her. This year she wore a custom Alexander McQueen gown, Lorraine Schwartz Jewels, and Roger Vivier shoes. The dress flattered every inch of her body, was simple, and elegant. Her dress was fitted and flattering, her hair was gorgeous, and her make-up was natural, subtle, and beautiful. Win. Win. Win.
Jennifer Anniston is always a favorite of mine. Ever since she was 'Rachel' she could really do no wrong in my book. Except that one time she accidentally dated John Mayer. Anyways, Jen always keeps it real. She knows she can't dress the same as the up and coming twenty-something year old stars anymore, and we respect her for that. Jen is consistently classy, and gorgeous, so for that, she made it into my top 4.
Anne Hathaway....okay let me preface this by saying, I agree, her hair is awful, and we now realize you have to have a way prettier face than that to pull off a 4-year old boys version of a Justin Bieber haircut gone wrong. Now, having said that, her dress is probably one of the only ones I (personally) would wear to an event, wedding, etc. Is it a little slutty? yes. But it's better than most of the gowns that cover up these awesome bodies the stars work so hard to achieve. Or even worse, the gowns that make women look bigger than they actually are. I would need the dress in a different color, but I like the open back and side-boob. Business in the front, party in the back. Go Anne.
And now, my winner is...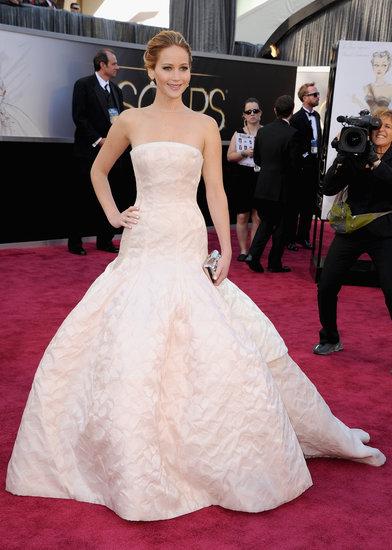 No this is not just a pity vote because she fell walking up the stairs to accept her award. I think she's gorgeous, cool, and extremely down to earth. I also secretly love it that she may be crazier than I am. (My boyfriend may or may not have told me that she reminded him of me in Silver Linings playbook). I loved this movie. As in, I have literally not stopped talking about it for almost two months now, loved this movie.  I think functional relationships are boring, no not just because I've never been in one, but because Jennifer Lawrence and Bradley Cooper show how much fun it is to be in a passionate, insane relationship. Okay back to why she wins my best dressed. Her skin tone and complexion is flawless, and the dress color complimented it to the tee. It showed off her hips and curves, while proving how tiny and thin she is at the same time. That's not so easy to do. So there you have it, her Dior Haute Couture dress, Brian Atwood shoes, Roger Vivier Clutch, and Chopard jewels, ultimately...killed it.
Who were your best and worst of the 2013 Oscars? Comment in the comments section below!
xx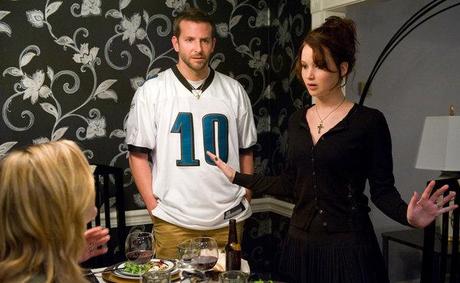 pic c/o nytimes.com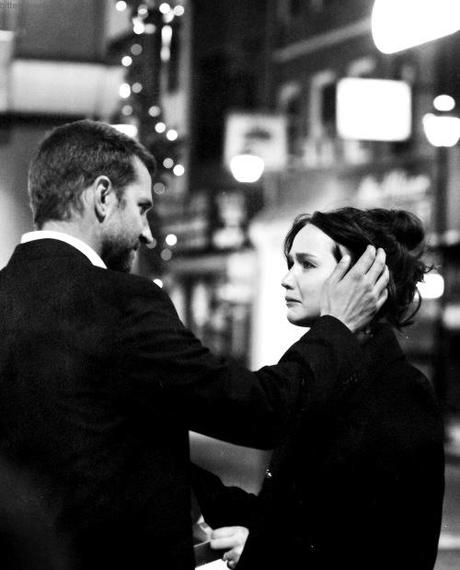 {Oscar Pictures c/o eonline.com}