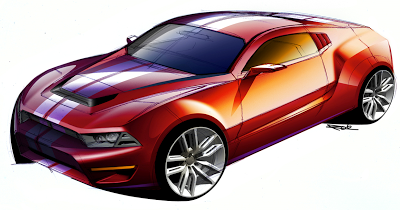 Red car sketch by Ford designer Rob Jensen (Via idsketching.com)
Dear friends,
how many times we tried to render a black car or a red one and we discovered how difficult it is? Yes the Red and Black colors are among the most difficult to reproduce in renderings, however it is possible to do it properly giving a realistic result to our rendering.
To render a Black car we need to use : dark Purple + Indigo Blue + Orange + Black
To render a Red car we need to use : Red + Orange + Yeallow + Violet + dark Purple + Black (not too much!)
We complete with color pencils detailing, some white guache for hot spots and most of all lets not forget to use on one side the warm colors (orientation sun...) and on the opposite side the cool colors (the blue colder sky..).
The rendering  here is excellent work of Ford designer Rob Jensen who is really good in rendering techniques...so to learn from his illustrations I suggest you to read his interview and see the slideshow of his works, click:
Rob Jensen's renderings
-