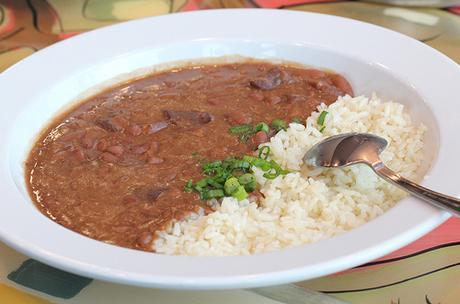 Red Beans & Rice, a New Orleans Monday washday meal, where the Sunday ham bone gets put to use, is a recipe I learned how to prepare at the age of fifteen when living in New Orleans. It is one of my top comfort foods, in the family recipe box now, and has been perfected over time. A go-to dish for football parties, Mardi Gras, or any large gathering, a pot of red beans can be made ahead, is easily served, and will taste even better the following day (not that you will have leftovers). While at a friends house after high school one afternoon, I watched their grand-père (grandfather) cooking a pot of red beans, and he taught me how to mash some of the beans against the side of the pot creating a creamy effect, a technique I still use today. Though you always hear discrepancies, I do believe in soaking the beans overnight to ensure that they will be tender and will cook in reduced time. They are called washday beans, as a pot of beans could sit on the stove and simmer, while women were busy scrubbing clothes on washday. This is originally a Creole dish which gained popularity in Cajun cuisine, and can be found on most menus throughout New Orleans, and the Southeast on Monday for lunch. On my recent trip to Visit Baton Rouge, I was introduced to Red Stick Spice, Co. I bought some of their amazing products and hand selected Bay Leaves. Like Anne (the owner) says, "If you are cooking a pot of red beans, there better be a bay leaf in there!" Don't want to cook? Head to 723 Whiskey Bravo Bistro & Bar in Seagrove Beach, Florida, where George Barnes, a NOLA native, is known to have this delicious dish on his Monday menu.
Ingredients:
1 pound dried red beans, rinsed and sorted (I use Camellia Brand)
4 tablespoons bacon grease
1/4 cup chopped tasso, or chopped ham
1 1/2 cups chopped yellow onions
1 cup chopped celery
1 cup chopped green bell peppers
1 teaspoon sea salt
1 teaspoon freshly ground black pepper
big pinch of cayenne
3 bay leaves
2 tablespoons chopped fresh parsley
2 teaspoons fresh thyme
1/2 pound smoked sausage, split in half lengthwise and cut into 1-inch moon shaped pieces (like Conecuh Sausage or andouille)
1 large smoked ham hock (or Sunday's ham bone- not sweet)
4 tablespoons finely chopped fresh garlic (I like garlic)
10 cups low sodium chicken stock, or water
4 cups cooked white rice
1/4 cup chopped green onions, garnish
Directions
Place the beans in a large bowl or pot and cover with water by 2 inches. Let soak for 8 hours or overnight. Drain and set aside.
In a large heavy bottom pot, heat the bacon grease over medium-high heat. Add the tasso, stirring for 1 minute. Add the onions, celery and bell peppers to the grease in the pot. Season with the salt, pepper, and cayenne, and cook, stirring, until the vegetables are soft, about 4 minutes. Add the bay leaves, parsley, thyme, and ham hock, stirring to brown the ham hock, about 4 minutes. Add the garlic, stirring for 1 minute. Add the beans and stock or water, stir well, and bring to a boil.
Reduce the heat to medium-low and simmer, uncover and re-cover, stirring occasionally, until the beans are tender and starting to thicken, about 2 hours. Don't let them stick to the bottom of the pot and/or burn. (Should the beans become too thick and dry, add more water or stock, about 1/4 cup at a time.)
In a separate skillet on medium heat, brown the smoked or andouille sausage. Drain on paper towels and fold into the bean mixture. I do this so the sausage does not dry out, but still enhances the flavor.
Remove the pot of beans from the heat, and with the back of a heavy spoon, mash about 1/4 of the beans against the side of the pot. (You can also do this by scooping the beans out of the pot and blending them in a vitamix or food processor, and then putting them back in. I still prefer the old-school technique.) Continue to cook until the beans are tender and creamy, 15 to 20 more minutes. Remove from the heat and remove the bay leaves.
Serve around a mound of rice, garnish with fresh chopped green onions, a dash of Tabasco (or favorite hot sauce), and don't forget the hot French bread on the side.