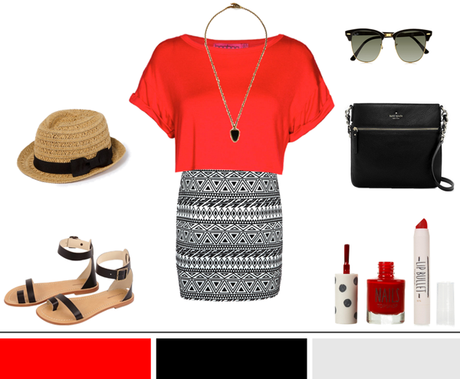 Do you roll your eyes when you see crop tops in stores? It has turned into a full-on invasion. Everything is cropped. Chances are pretty good that (no matter how toned your tummy) you have probably tossed an eye-roll or ten out there. Not necessarily because you don't think you can pull it off…but also because you don't know where to pull it off. Where, exactly, is it okay to wear these? I don't know the rules, but I have found a combination that makes the crop top acceptable in nearly every situation: pair it with a high-waisted skirt (fitted or full, both are cute). It minimizes exposed skin but gives that "tucked in tee" look without the bunching fabric of actually tucking one into a mini skirt (I know you know what I'm talking about).

BooHoo Sarah Crop Tee
($16.00),
Lipsy Tribal Mini
($34.00), Pendant Necklace ($109.00),
Kate Spade Cobble Hill Ellen
($238.oo), Ray-Ban Clubmasters ($145.00), Fabio Rusconi Gladiator Sandals ($106.95), ICING Straw Fedora with Grosgrain Trim ($18.00), TOPSHOP Nails in Pillar Box ($7.76), TOPSHOP Lip bullet in Rockabilly ($16.00).