By Susan Duclos
In the video below from RT, Max Keiser and Stacy Herbert discuss the technology where recycling bins actually track people for a variety of reasons. The numbers are astounding.
Recycling bins in London are monitoring the phones of passers-by, so advertisers can target messages at people whom they recognize.
Isn't that a scary thought, the technology incorporated into the recycling bins can actually recognize you. The screen shot below, from the video, provides some terrifying numbers, showing the governments ability to track just about anyone, and if applied to other inanimate objects, theoretically, they can track everyone.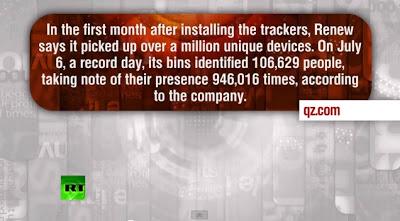 Cross posted to Before It's News