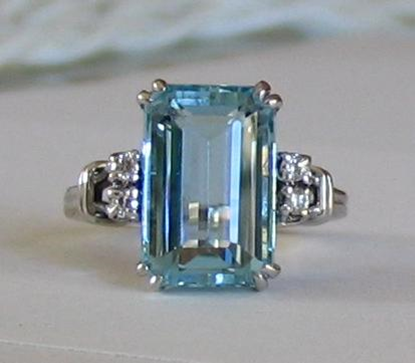 Some of the many benefits of heirlooms include: Firstly, having jewelry that has been passed down through the ages. Secondly, one has the ability to remodel the jewelry to suit their sense of style without losing its sentimental value. There is this common misconception that heirlooms have to stay in its original design and cut but nine times out of ten you may not like its overall look so why not change it up and add your personal touch before it gets passed down to the next generation. That's exactly what, PS member Ellen did with her beloved grandmother's rectangle emerald cut aquamarine engagement ring. She kept the parts of the heirloom that mattered most and recut it to suit her finger and contemporary sense of style. Let's take a look back at what Ellen did with her heirloom in this week's Throwback Thursday entry.
TO CHANGE IT OR TO LEAVE IT?
I am about to get a little controversial here, I am always happy to see people updating heirlooms to fit their own taste. It breaks my heart when a beloved piece ends up in a drawer, never to see the light of day again. However, each with their own. Ellen mentioned the idea of recutting her grandmother's engagement ring with the PriceScope community, and the sentiment was to leave it as it was. The original ring was really beautiful yet didn't suit Ellen's sense of style, so she opted to recut the heirloom into a masterpiece of her own.
THE JOURNEY FROM OLD TO NEW
Ellen turned to Richard Homer as he is notorious for recutting stones to suit the style and design of the consumer. Ellen's heirloom went from being a rectangle emerald cut into a stunning square. Thereafter, Ellen sent the recut stone off to Leon Mege who set her newly cut aquamarine stone. What an adventure yet so worth it. Take a look at the results below:
This ring was posted 11 years ago, and I can only hope that it has been worn regularly and brings her tons of joy!
On Throwback Thursdays, we celebrate beautiful jewelry pieces that have been shared on the PriceScope forums over the years! Join Us next Thursday as we pull out yet another post from our archives.
Interested in Aquamarine colored stones? Read this blogpost featuring a variety of aquamarine jewelry.
Written by Kayti Kawachi of PriceScope Inc.
View all posts by PriceScopeKayti