Did you know that billions of dollars in sparkling treasure lies hidden beneath calm blue African waters?
Diamonds in the Depths
For millions of years a steady stream of rough diamonds has been tumbling down the Orange and Vaal Rivers. These precious crystals were pulled from their inland volcanic pipes by wind, water and erosion and carried to the sea for countless ages. Now, distributed far and wide by tidal activity, millions of carats lie in the sediment under the sparkling territorial waters of Namibia.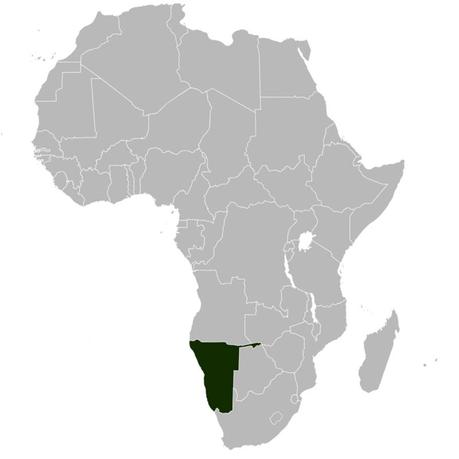 Cooperation and Prosperity
DeBeers' made arrangements to start recovering diamonds off the coast of Namibia in 1991. Thirteen years later, the interest of bringing prosperity to Namibia's indigenous people, DeBeers and the Government of Namibia formed Debmarine Namibia (DBMN), a division of Namibia-DeBeers' partnership (NAMDEB).
Since 2004 the two giants have cooperated in the sorting, valuing and sales of all diamond production. In addition to creating a key revenue stream, cutting and polishing were brought into Namibia in 2014, providing jobs for many citizens. Today Namibia exports approximately 2 million carats of gem-quality diamond rough, year on year. Oceanic recovery by DBMN represents around 75% of that volume.
These joint initiatives have resulted in significant infrastructure improvement and development for the country. The population is better educated, healthier, and wealthier since being able to benefit from the rich resources hidden just offshore. The NAMDEB venture has been extended through 2025.
The Equipment
A fleet of six ships operates in waters up to 400 feet deep, using 280-ton mechanical arms that move in a horizontal arc, dredging material from just beneath the sea floor. The dredged gravel comes to the ship and undergoes a sophisticated treatment process where diamonds become separated. Those diamonds go into sealed containers, while the tailings are returned to the ocean floor. The diamond containers are loaded into steel briefcases and flown by helicopter to shore. No human hands touch the diamonds during the dredging and automated sorting process.
The newest ship in the fleet, the SS Nujoma, was launched in 2016. A new vessel under construction at the Damen Shipyards Mangalia, Romania, is scheduled for launch this year. It will incorporate a range of unique technologies - permitting it to collect more information per sample - more than doubling the speed of its predecessors.
Sustainability
The mining industry draws environmental concerns, particularly operations on land which have toxic runoff and invasive underwater operations. Since the 1980s the natural diamond industry has widely focused on reducing environmental impact and rehabilitate mined areas. For this reason the Namibian Ministry of Fishing and Marine Activity was consulted and included in Debmarine Namibia's planning beginning in 2005.
The operation maintains ISO environmental compliance (ISO 14001:2004). There are no major fish spawning grounds and no commercial fishing in the mining area. Dredging equipment was designed so that stray marine life sucked into the pipe is returned to the sea alive. Unlike deep-sea dredging, shallow mining returns tailings to their original beds.
Monitoring is performed to facilitate rehabilitation of mined areas, including benthic sampling in cooperation with the country's Marine Ministry. This can be compared to forestry industry rehabilitation, but it takes only 3-10 years for mined marine areas to rehab.
Africa News: Namibia's Underwater Diamond Harvest
Scope
The mining-lease covers a total of 2,316 sq miles off the Namibian coast. Since operations commenced, less than 3% of the area has been mined - approximately 50 square miles in total. Experts say the diamond field also stretches inland, with millions of carats of valuable diamonds buried along the coast. There is not currently a recovery initiative for those areas, as any extraction plan will require extensive planning and significant capital.
Oceanic Rough
Our planet's supply of natural diamonds are estimated to be 1-3 billions years old. "Primary deposits" are those which remain in volcanic pipes. "Secondary" deposits, also called alluvial, are those removed from their pipes by water and erosion and scattered across adjacent landscapes over the eons.
Logically, rough which was tossed, tumbled and pummeled by nature for millions of years tends to have edges which are more rounded than the sharp edges of rough that remained sheltered in their pipes.
And why wouldn't they? Aren't we all a bit less hard-edged after a trip to the beach?
Written by John Pollard
Comments?
What do you think of Oceanic Diamond Mining? What do you think of the equipment being used? Is it environmentally sound to rehabilitate the mined areas, or invasive and irresponsible? Did you know that Namibia and Botswana have been transformed into two of Africa's most prosperous nations thanks to diamonds? Let us know in the comments, or use the community link below to share with the entire PriceScope forum!
More Reading
Learn how to define brightness, leakage, contrast, and scintillation on our page Diamond Performance Explained.
Take your diamonds on a brightness, fire, and sparkle test drive: Make Comparisons Like an Expert.
Get fast answers to any question:
Ask our community of unbiased independent helpers.
Ready to find your diamond?
Written by John Pollard