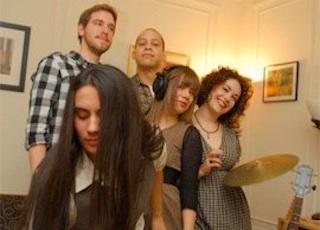 Our favourite non-Springsteen related New Jerseyians Bern & the Brights return, taking time out from their relentless touring schedule next month to show their support for Record Store Day, which this year takes place on April 16th.
I first heard about BATB last summer where their up tempo, female fronted alt-pop gems really soundtracked the dying embers of the season. They're stll frustratingly below the radar while receiving constant praise for their live shows. It bodes well to bear in mind that they still haven't released their debut album, their studio material comprising of two EP's and now this double A-side.
The tracks, "starchild" and "lost in the sea" are what is to be expected, perfectly crafted samplers of a band already so comfortable with their sound that they can keep tracks like these off an album. Full of the usual whimsical melancholy with that country tinge, the atmosphere and soul coarsing through with the assurance of knowing how much goes into each one of their offerings.
I can't put up the tracks for download but if you don't have the brilliant, "It goes like that" then grab that and check out the stream of their two new tracks.
MP3:
It goes like that
Streaming: Starchild & Lost in the sea