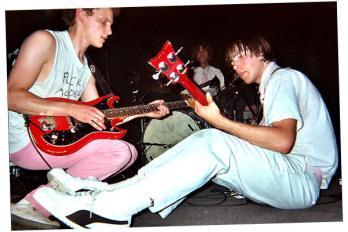 You've probably got to have a bit of an open mind to really dig Montreal's The Unicorns; they are musically, a bit of a mess. I used to listen to them when I couldn't sleep as the ridiculous drum patterns really tire your brain out.
They're unique, not really singing about anything in particular and bizarre choices in vocal deliveries and musicianship, you really need to want to love their idiosyncracies- if you can, you'll love them. There's one point he sneezes in I Do It and I genuinely think it's genius, i don't know I just do- who else leaves that in a recording?
Nowadays they're reformed as a band called Islands who I'm not as into, they're too clean. I liked the mess, I'm sorry. Though for anyone who feels the same they did get back together as The Unicorns for a short run of shows back in August. Let's hope that wasn't just a last hurrah. Strangely their last EP was titled 2014..
I Do It
~
Let's Get Known
~
Ready To Die