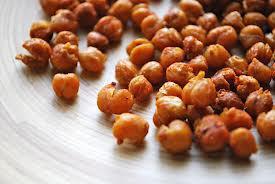 After digging into the bag of Saffron Road's Chipotle Chickpeas I realized I've been remiss in sharing my simple recipe for roasted chickpeas.  Roasting chickpeas is super simple so this is less a recipe and more a list of steps. Chickpeas are an excellent source of fiber and when roasted with salt and pepper you get your cravings for salty andf crunchy without all the added fat and sodium. Even better they are naturally gluten free! A healthy and satisfying snack that meets all the credentials. You better believe it!
Check out the recipe below and while you're at it visit An Edible Mosaic and check out Faith's recipe for Falafel Spiced Roasted Chickpeas. Believe me. You will be glad you did.
Salt & Pepper Chickpeas
3 8 ounce cans of garbonzo (chickpeas) beans, washed and rinsed
sea salt to taste
1 teaspoon kosher salt
2 tablespoons cracked black pepper
2 tablespoons olive oil
Pre-heat oven to 400 degrees
Add chickpeas to a bowl and toss with salt, pepper, and sea salt. Line a cookie sheet with parchment paper and spread the peas in a single layer on cookie sheet.
Roast peas for 25-30 minutes or until crispy and dried out but not burned.
Photo credit: AskGeorgie.com