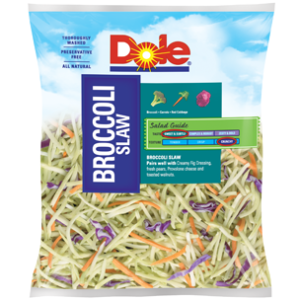 Dole makes these awesome pre-cut and washed coleslaw mixes to help make your life simple. This simple Broccoli Slaw is the perfect side for soup, sandwiches, and your favorite grilled entrees all summer long.
Dole Quick & Easy Broccoli Slaw
 1 bag Dole Broccoli slaw mix
2 tablespoons yellow mustard
1/4 cup So delicious plain yogurt
2 tablespoons lemon juice
1 tablespoon sugar
3 tablespoons vinegar
1 teaspoon celery seed
To taste: sea salt, black pepper, onion + garlic powder
Directions
1. Add slaw to a medium bowl, mix in yogurt, mustard, lemon juice, sugar, vinegar, celery seed, and seasonings until well coated. Chill for 15 minutes. Serve.