I recently collaborated with OnePotPasta on a delicious Vegan Spaghetti Primavera Sauce & 'Meatballs' recipe. Its high protein and fiber make it ideal for a post workout meal that also keeps you feeling satisfied longer. I chose a high fiber pasta because fiber is such an important part of a healthy diet, yet one which is usually lacking since most of us don't eat enough vegetables.
Just to be sure, the vegetable primavera sauce is packed with fiber! It's mostly fresh chopped vegetables, with vegan ground meat and meatballs (adding yet more fiber and all the protein of meat, yet with fewer calories and without the cholesterol and saturated fat). Check out the recipe below! Have a great weekend lovelies, XO :)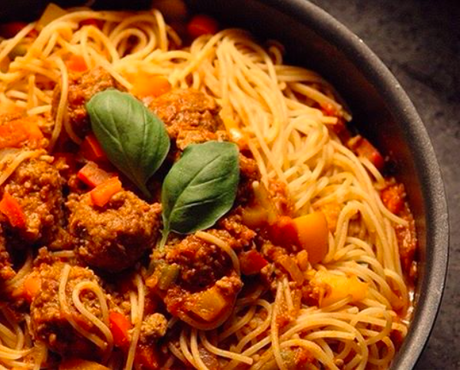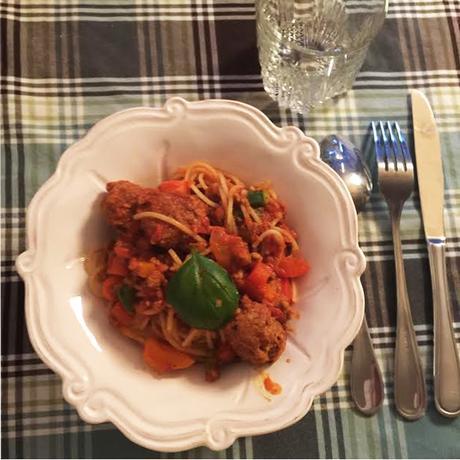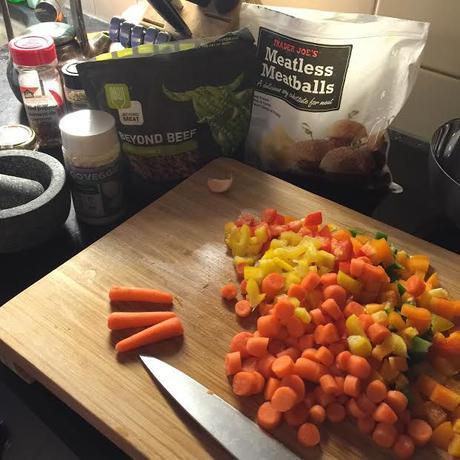 Ingredients
3 tbsp. of oil (optional)
1 Cup chopped carrots
1 Medium onion – chopped
½ Each red, yellow, green and orange medium peppers chopped
1 Cup Beyond Meat Beefy Crumble (or Gardein beefless ground meat)
1 Cup Trader Joe's Meatless Meatballs (or Gardein meatless meatballs)
375g/13ounces high fiber spaghetti
1 tsp crushed cayenne red pepper
1 tsp garlic powder
1 tsp black crushed pepper
1 tsp oregano
1 tbsp natural brown sugar
1 Jar of your favorite vegan tomato sauce
Go Veggie grated Parmesan cheese
Instructions
In a deep saucepan, place 2 tbsp (optional) of oil until hot. Add peppers, onion and carrots, then lower heat for 3 minutes.
Then add beefless ground meat and your favorite tomato sauce. Stir then simmer for 3 minutes. Do not cover – let evaporate.
Meanwhile, in a separate pot add 4L of water, 1 tbsp (optional) of oil and salt and bring to boil. Add spaghetti. Let boil for 10 – 12 minutes, stirring occasionally.
Add meatless meatballs to tomato sauce in saucepan.
Add sugar, garlic powder, black crushed pepper, oregano, and stir occasionally.
Drain pasta. Do not rinse. Take desired serving size and cover generously with primavera meatball sauce.
Sprinkle cayenne red pepper and vegan grated Parmesan cheese to taste.
Facebook | Instagram | Twitter | bloglovin' | Pinterest
Filed under: Food, Hostess