25 total views, 25 views today
Overnight Oats from Three Sisters Bake and Lidl
Nichola from Three Sisters Bake passed on this recipe for Overnight Oats. She also explained why overnight oats are now part of her daily routine:
"I'm not a fan of breakfast cereals. They are generally highly processed, full of sugar and leave you feeling hungry about an hour after you have eaten breakfast. Until about a year ago I ate porridge every day which though healthy and delicious can be time-consuming. I discovered overnight oats on a blog and they have revolutionised my mornings! They require no cooking and are immediately ready to eat in the morning.
Overnight oats are prepared in the evening and left in the fridge to soak overnight. In the morning toppings are added to the softened oats. The amount of oats you use is up to you. I have a trusty 1/3 cup measure that I use every day. These will keep for up to 3 days so you could make a bigger batch.
I favour jumbo oats as I like the bite they give and find they keep me fuller for longer. I also add linseeds (for a healthy digestive system) and pumpkins seeds (a great source of protein - which helps keeps you full through to lunch).
The fun part is adding the toppings. One of my favourite combinations is sultanas, grated apple, cinnamon and pumpkin seeds but feel free to get experimental with any combination of fruit, seeds, dried fruits or even nut butter!"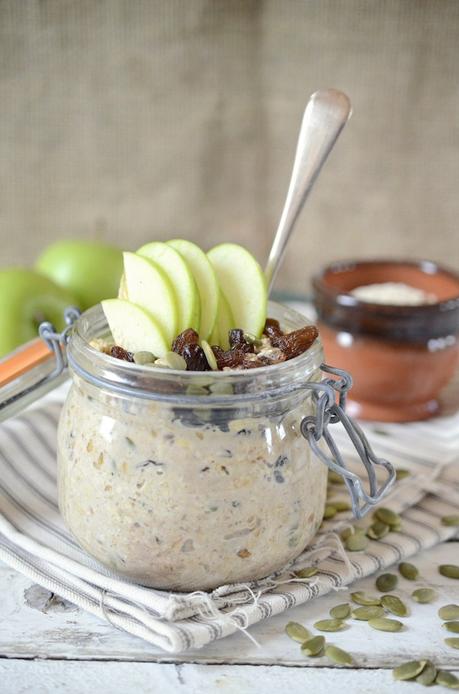 Ingredients
Instructions
The night before
1/3 cup of jumbo oats
1/3 cup of semi-skimmed milk
a small handful of pumpkin seeds
a small handful of sultanas
two big pinches of linseeds
half teaspoon of cinnamon
In the morning
One apple, grated
One dessert spoon of full-fat natural yoghurt.
Stir through and enjoy!
Three Sisters Bake has cafes in Killearn and Quarriers Village.
www.threesistersbake.co.uk
Three Sisters Bake Killearn
Balfron Rd
Killearn
Stirlingshire
G63 9NL
Three Sisters Bake Quarriers Village
Sommerville Weir Hall
Faith Ave
Quarrier's Village
PA11 3TF