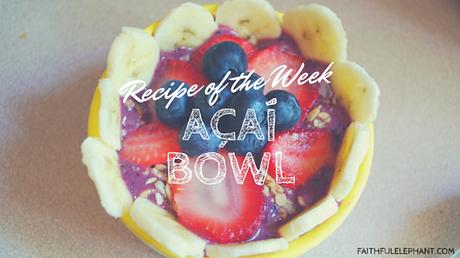 When in Hawaii, David turned me on to açaí bowls and I will never be able to live without them ever again. These bowls gave me so much energy and was packed with vitamins, natural sugars, and best of all, they were cold! I know that sounds silly to love that these bowls were cold, but after a long hike, we needed something to cool us down.
Being that it is hump day and I am recovering from my recent surgery, I needed a pick-me-up, much like I did almost daily in Hawaii. About a week or so after our trip, I made it a priority to perfect the açaí bowl so I could get my fix. What I realized is, nothing will EVER top the açaí bowls in Hawaii. The fresh fruit, honey, and atmosphere there completely changes the recipe. I can promise you that. However, I was still determined to make a bowl that at least made me feel energized and happy, just like I felt in Hawaii.
Before diving into the recipe I follow, I wanted to discuss a few facts/benefits of açaí bowls:
Açaí is a fruit native to South America that is high in antioxidants, minerals, and fiber.
Açaí is low in sugar, too!
Açaí bowls are essentially smoothies in a bowl with whatever you want on top! What is so great about these bowls is that you can determine exactly what you would like to put in them. The choice is yours!
These bowls are a hit in Brazil… especially on the beach. I can see why they are popular in Hawaii, now.
Okay, enough about the bowls. I highly recommend researching more about açaí, though. There is a lot you can do with this amazing fruit!
On to the recipe. As stated above, açaí bowls are a fantastic opportunity for you to get creative and make a bowl exactly how YOU like it. I am still an amateur bowl-maker, but I am branching out from my favorite recipe slowly but surely. It is important that I stress that this bowl can include almost any fruit or veggie you desire. Some fruits/veggies add extra creaminess while others simply add more flavor. Consider what benefits you are craving the day you make the bowl and go for it!
Below is my favorite (so far) açaí bowl recipe that I wish could hold a candle to the ones I craved daily in Hawaii😉
Ingredients for smoothie:
1/2 cup of unsweetened almond milk/coconut water/other preferred liquid
1/4 cup of frozen blueberries
1/4 cup of frozen strawberries
1 medium-large sized banana (can be frozen or room temp)
1 unsweetened açaí smoothie pack
1 tbsp of vanilla extract
1 heaping tbsp of organic raw white honey
Ingredients for topping:
granola
organic raw white honey
blueberries
strawberries
banana
Recipe:
Begin by blending the almond milk, blueberries, strawberries, honey, and banana. The fruit does not have to be frozen, but I find that it helps with the thickness of the smoothie. Next, give the mixture a stir with a spoon or spatula and add the vanilla extract. Before adding the açaí smoothie pack, break up the pack using a hard surface or crab mallet.
*Note, the açaí smoothie pack instructions may say to run under hot water, but I found that this liquefies the pack too quickly. This can affect the thickness of the smoothie.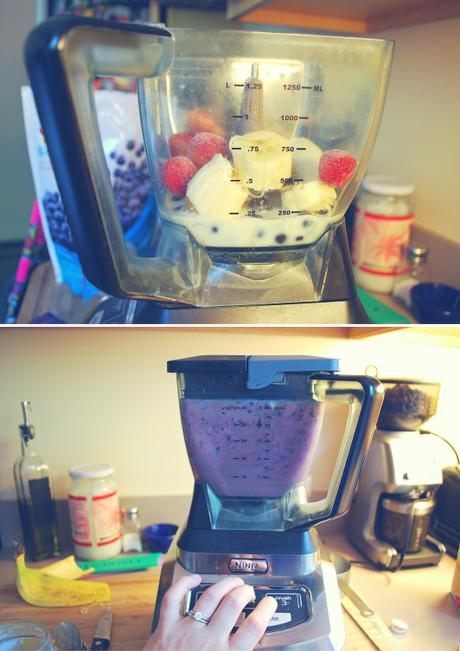 Add the smoothie pack to the blender and continue to blend the ingredients until desired consistency. Remember that the consistency should be thicker than a regular smoothie. The thickness of the mixture is part of what gives the açaí bowl its charm!
Either after the mixture is prepared, during, or prior, prepare your toppings. Personally, I prefer to have the toppings prepared before blending the ingredients. This keeps the mixture from melting before assembling the bowl.
To prepare the toppings, I slice strawberries and bananas relatively thin. Again, this is an opportunity for you to be creative. If you prefer more bananas, add more bananas. If you prefer no honey, totally go ahead and nix it. After slicing the banana and strawberries,  I prepare the raw honey. This type of honey is in a solid form, so it needs to be melted in order to drizzle it on top of the bowl. Microwave it to your desired consistency. I microwave in 15 second increments until it is just right for drizzling!
Before adding the smoothie mixture to the bowl, I like to sprinkle granola on the bottom of the bowl. This allows me to get some granola in every single bite from top to bottom. I then pour the smoothie in the bowl and level it off with the back of a spoon. I proceed to layer the top of the bowl more granola, then strawberry slices, a small handful of blueberries, and the slices of bananas. My last step is my favorite part… drizzling honey on top and watch it glisten in the light!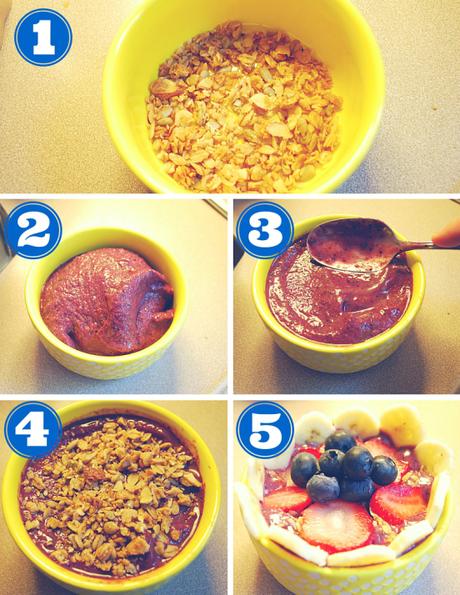 ---
This meal can be very high in sugar. Between the natural sugars from fruit, the honey, and… well, the drizzle of honey at the end, you can go overboard. I always try to be conscious of how much sugar I am adding to the bowl. I cut sugar in certain aspects of the bowl wherever I can. If you notice in the ingredients list, I use unsweetened almond milk and the unsweetened açaí frozen smoothie pack. Many recipes call for vanilla almond milk, but that, too, can have added sugars. This is why I add vanilla extract! You control the amount of sugar that is added in this recipe, so just be aware.
Below is a list of all the products I used for my açaí bowl. You do not have to use these products, but I definitely recommend giving them a shot. I will post another version of açaí bowls once I perfect more recipes.
Products I used:
Sambazon Pure Unsweetened Açaí Berry Superfruit Pack
Heavenly Organics 100% Organic Raw White Honey
Silk Original Unsweetened Almond Milk
Ninja Blender
BetterBody Foods Organic Bourbon Madagascar Pure Vanilla Extract
Michele's Granola in Original (Locally handmade in Baltimore)
All fruits from Mom's Organic Market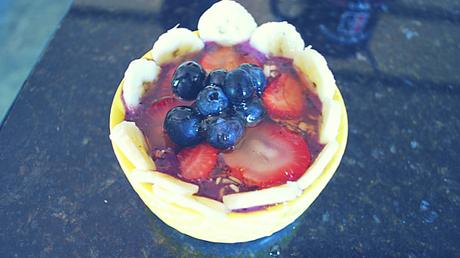 Thanks for checking this out and be sure to send me photos of your bowls! Use the hashtag #FaithfulElephantAcaiBowl so I can easily find yours on social media.
Completely unwarranted life lesson from a married woman #7: Compromise when it comes to dishes. Whoever cooks shouldn't have to clean. At least… that's what I tell David. 😉