I have fish quiet often as I love it. Usually, I steam it in my electric steamer, grill it under the grill or do a quick cook in the fry pan. Last night I decided to try out a new recipe. I have cooked fish in the oven before, usually wrapped in foil. This time, I made a fish parcel using baking paper.
It turned out super delicious and got a 'this is beautiful' from hubby.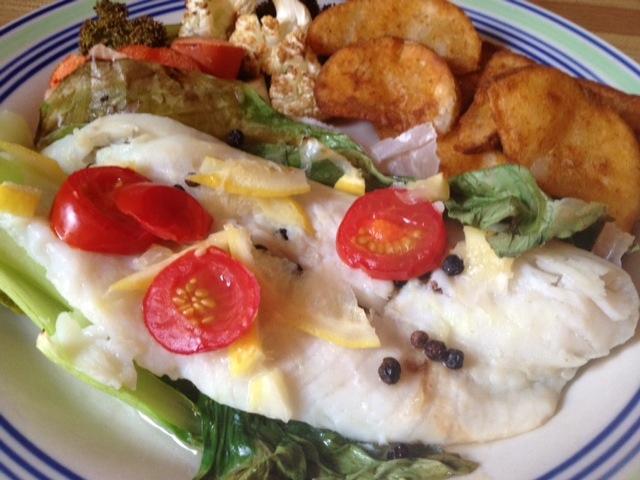 Ingredients: (for two serves)
2 pieces of white fish (I used Basa Fillets)
1 bunch of bok choy
1/2 a lemon
Black peppercorns
2 cherry tomatoes
Method:
Preheat oven to 200˚c.
Cut two squares of baking paper, big enough to enclose your fish.
Lay a bed of bok choy in the middle of each piece of baking paper.
Place the fish fillets on top of the bok choy.
Cut your lemon half into quarters, then squeeze some lemon juice over each fish fillet. Next roughly chop the remaining lemon (rind included) and scatter over each fish fillet.
Sprinkle a few peppercorns on top (you don't need many).
Slice each cherry tomato into 4 slices and lay over your fish.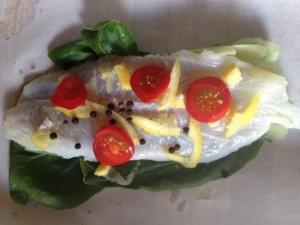 Wrap the fish fillets up, folding the ends in and then the sides of the baking paper over, enclosing your fish. I used two toothpicks in the top of each parcel to hold the paper closed and in place.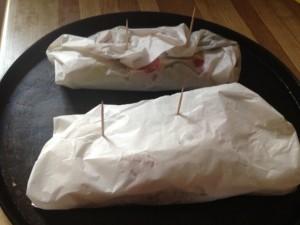 Bake in oven for approx 20-25 minutes.
I served them with some oven baked vegetables and hubby had some wedges too.
Delicious!