I've had my parents in town from Napa, and Sunday I threw a little dinner party for my mom's 65th birthday. It was a great opportunity to break out my entertaining essentials again! And you know me, I had to rock the supermarket flowers — but really, you can't pass up ranunculus in happy pops of red, orange, and fuchsia! It was actually pouring rain outside, so these really brightened the table up.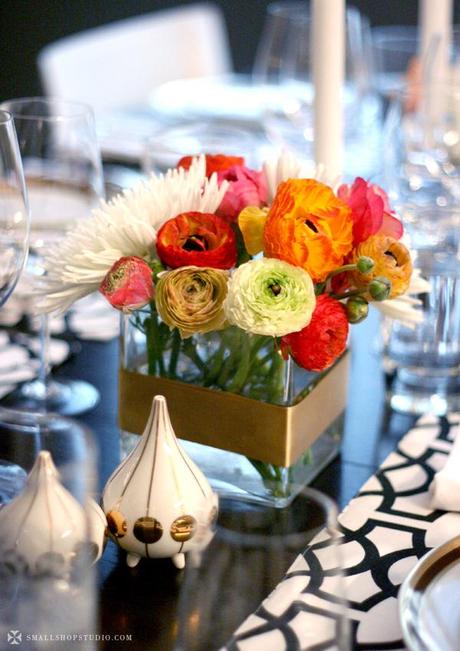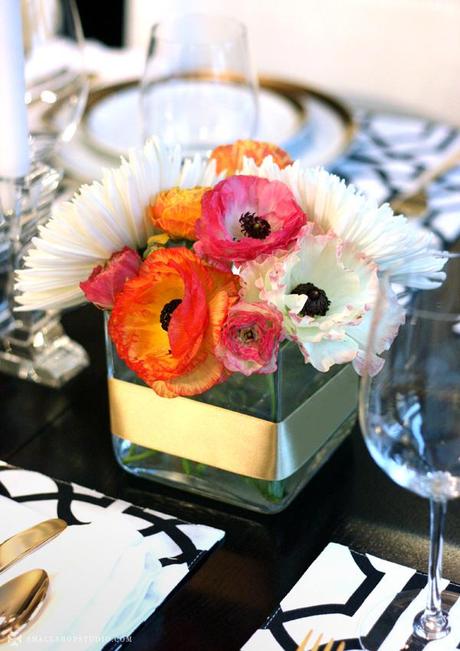 For the salad course, this delish dish was so easy and healthy — highly recommend!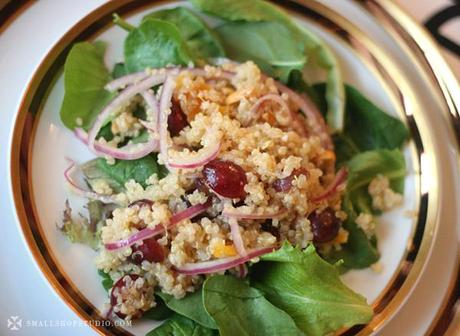 HONEY-SOAKED QUINOA SALAD WITH CHERRIES & CASHEWS
Makes 4 servings; Prep 30 min., Cook 10 min., Stand 10 min.
Honey Vinaigrette
2 Tbsp. grated fresh ginger
1/4 cup honey
2 Tbsp. white wine vinegar
2 Tbsp. freshly squeezed lime juice
1 small clove garlic, minced
1/4 cup extra-virgin olive oil
Salad
1 cup water
2/3 cup uncooked quinoa (rinsed)
¼ tsp. salt
1/2 cup whole cashews, coarsely chopped
1/2 cup dried apricots, sliced into thin slivers
1 cup fresh dark sweet cherries, pitted and halved, or red seedless grapes, halved
1/4 cup thinly sliced red onion
1 small head butter lettuce, torn (4 cups) *I used spring mix because I had it handy
Preparation
Place the quinoa in a fine-mesh strainer and hold under running water to remove any saponin, the natural coating on the grain, which may taste bitter. Couscous, cooked according to package directions, can be used in place of the quinoa.
For Honey Vinaigrette, in small bowl whisk together ginger, honey, vinegar, lime juice, and garlic. Drizzle in olive oil, whisking constantly, until well combined. Season with salt and pepper. Set aside.
For Quinoa Salad, in medium saucepan bring water, quinoa, and salt to boiling. Reduce heat and simmer, covered, for 10 minutes, until liquid is absorbed. Remove from heat; let stand 10 minutes.
Fluff quinoa with a fork. In large bowl toss quinoa with cashews, apricots, cherries, and onion. Add lettuce, then drizzle with 1/2 cup of the vinaigrette. Season to taste with salt and pepper, then toss again. Pass remaining vinaigrette. Refrigerate remaining vinaigrette up to 5 days in sealed jar.
Wine pairing: My dad (in charge of the wine for the evening) served Chateau Montelena's 2009 Chardonnay which complemented the light honey citrus flavors of the dressing perfectly.
Whether you're entertaining soon or not, give this one a try for sure!
Recipe via Better Homes and Gardens