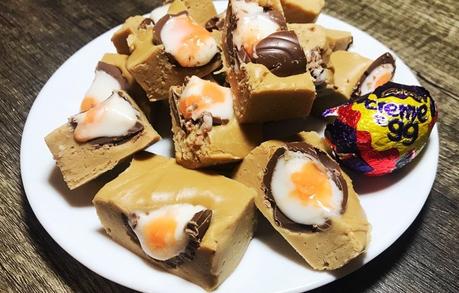 It's nearly that time of year for some sickly, sugary fun. Easter and chocolate eggs go together so well. Melt in the mouth sugary, creamy fudge and fondant Creme egg, even Fred came over for a sniff (and a sneaky lick).
Use normal sized Creme Eggs for big chunks or mini Creme eggs for a more refined sugar rush.
397g can Condensed Milk
150ml milk
450g demerara sugar
115g butter
2 packets Cadbury Mini Creme Eggs or 1 box regular sized Cadbury Creme Eggs
20cm square tin lined with baking parchment
Place the ingredients into a large non-stick saucepan and melt over a low hear.
Stir until the sugar dissolves.
Bring to the boil then simmer for 10-15 minutes.
Stir continuously, scraping the base of the pan.
To see if it's ready, drop a little of the mixture into a jug of ice-cold water. A soft ball of fudge should form.
Or use a sugar thermometer, the fudge should be approximately 118°C.
Remove the fudge from the heat and beat until it's very thick and starting to set.
Use an electric hand mixer here if you have one.
Pour into the prepared tin.
Add Creme eggs throughout the fudge, cut in half for added goo.
Leave to cool.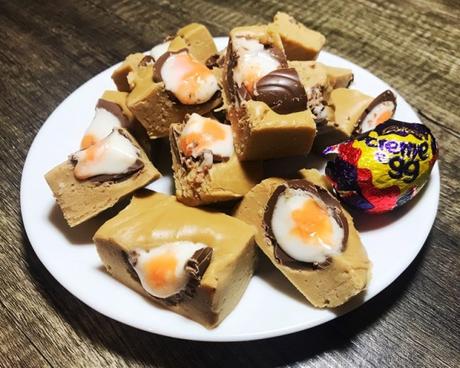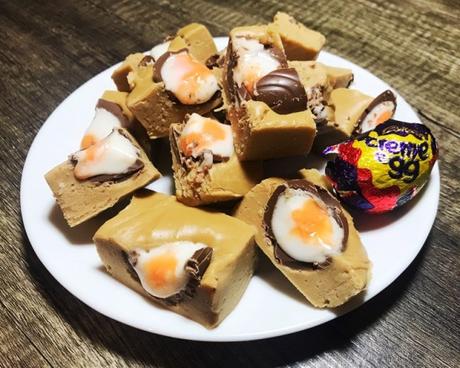 Ingredients
Instructions