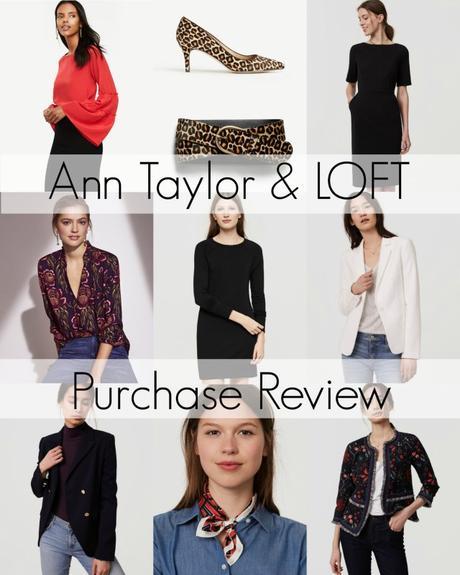 Ann Taylor and LOFT, I just can't quit you. Sometimes I walk in your store and walk right out. Sometimes I go online and want everything, sometimes I'm underwhelmed. Often when I place an order I return 99% but that 1%... that's why I keep coming back. Here's the latest items I've ordered from these two retailers:

How CUTE is this jacket? And it also gets rave reviews! Oh gosh I love it, I'll throw it over a dress, wear with a simple tee and jeans, it's the kind of jacket that will work with other prints - a striped shirt, a patterned silk scarf. It's also pretty timeless, something that has been in style before and won't look like a fashion has-been piece in a year or two or five.
I got it, it's not as bright and unique in person. That's likely a good thing for most, but for me it wasn't quirky enough. The fabric is also a bit stiff, so it stuck out at my chest. It's a pretty jacket, and one I think that would be flattering on a smaller or less busty person. But I just wasn't thrilled enough to keep it. May be a hit for some, but a miss for me.
We all can use a dress like this in our wardrobe. The tailored but not tight black dress that can work for the office, for a funeral, a wedding, a cocktail party, a Date Night, an awards gala all with the switch of a necklace and shoes. And the 14 petite fit me really nicely, nips and tucks all in the right places.
However, this is a stretchy ribbed dress. This is not ottoman ribbed which is heavy and solid with a bit of give, but more like a lightweight ponte knit that stretches in all directions. It is also not lined. If it was a heavier fabric and the skirt lined, even if it was twice the price, I'd keep it and love it and wear the heck out of it. But the fabric choice and lack of lining made it so cheap looking and feeling. I believe I used the term "Under $50 ASOS dress" in my last hits and misses post; this too gives that feel. I think if I were younger I'd find it a nicer dress, but now I want a dress that will keep its shape and mine, especially for the occasions where such a silhouette is appropriate. Miss.
I haven't had much luck with Lou & Grey in the past, the sleeves are always super narrow and the shape in general is geared towards a leaner frame. But I was willing to take a chance and because I know they run narrow went with an XL.
It's clear I like it, I wore it in this outfit post. However, I will not be putting this baby in the dryer and I wash it inside out on the gentle cycle. It's the kind of fabric that is super soft and cozy... and prone to shrinking, pilling, and fading. So far so good but in general with clothes from LOFT and Lou & Grey be more cautious than the washing instructions to keep the color, shape, and length. Hit!
This is awful. It looks like a lab coat and has just as much tailoring to it. Nice fabric, nicely constructed, but the weight of the fabric mixed with the boxy fit just makes it look dorky. Miss.
Clearly I like this jacket, I wore it in this outfit post and have worn it two other times since. Because it's a boxy shape, I think I could have sized down to 14 but chose to stick with 16 worrying that the 14's arms may be too snug. But it's a nice finish that will work with LOFT's trousers, the buttons are smooth shiny gold, it's lined, and looks well made. Hit!
The print is an orange-red with navy, black, and ivory. It's a smaller scarf, the size of a bandana. This is what I wanted, with a thicker neck I find larger square scarves to be an awkward size - too small to double comfortably, but single knot I look like a flight attendant. This is a great length to roll and knot, to wear cowboy style tucked into the neck of an open shirt, to tie on the handle of your handbag or around a low ponytail. Just know the navy stands out so don't think you can easily pair this with black and not look a tad off. The price is awesome when they have 40% off. Hit!

A silky patterned blouse is a wardrobe workhorse. Pair with trousers or a pencil skirt, wear with a suit, style untucked with skinny dark jeans, tuck into dark bootcut jeans... I loved this print's colors, the interesting neckline, and that it came in petite.
The XL petite fit, was a tad loose but I think the large would have been too snug in the bust. It's a really gorgeous and unique print that would work with navy, various wine and red shades, ivory, camel, denim, green, and gold. Machine washable polyester that looks far more expensive than its pricetag. Technically this is a hit, but keep reading...
These pants looked like a really great shape. I loved the black piping at the bottom; like pajamas but not the true pajama trend. I figured the print would look great with a crisp white shirt, a navy cashmere turtleneck, a burgundy blouse, even a denim jacket. And well, I loved the idea of a jumpsuit look by pairing it with the rose garden blouse.
The 16 was too big. Even as a petite, the rise was so high it almost hit my ribcage and was loose. The 14 was too snug on the rear and a hair too short to wear with my favorite pumps. I got home from work and with just my bedside light on, tried on the 16 with the blouse and loved the look. I added black pumps and my gold bamboo earrings and deep wine lips. Karl said it was badass, a look that would get major props in person but be panned like crazy on the blog. I took a photo and texted it to some friends, one said she'd have to see it in person because it didn't have much shape. I switched to the 14 and knew while the pants fit, I had no desire to showcase my rear in tight unlined thin silky pants. Then the next morning in full light I tried it on again. And then I carefully folded both pairs of pants and the blouse and put them back in the box to return.
If the pants came in a 14.5, I likely would have kept the set. I would have worn it to work and my boss would have made a joke about me wearing his grandmother's curtains or couch and my coworker would have backed me up by saying it's very on trend and he's an old. I would have strutted outside to Starbucks or somewhere for lunch and would likely have some woman compliment me on my look. I'd come home on an outfit high and ask Karl to do a shoot. I'd feel all hot and fabulous in my outfit, smile and strut for the camera and then he'd give me the memory card and my confidence would end up in the toilet. Oh. My. God. Did I really spend all day in this outfit? Look at my ass, look at my belly! Why didn't he notice that the blouse moved and you can see my bra in some of the photos? I don't look like I'm wearing a grandmother's couch, I AM her couch! And then two weeks later I'd wear the blouse with dark jeans or navy pants. The floral pants would recede further and further into the back of my closet until one day in April where I decide to try them with a different top or a blazer and maybe they'll catch me on a day when I like the look and wear them again. Or maybe that would be the moment when I decide to list them on Poshmark.
I still think the combination is utterly awesome, and each piece could look fabulous on its own. But keep in mind the flowers are placed in different places on the pants depending on where the bold of fabric was cut. I had visible ovaries in the 16, while the 14 was a different placement. So I hate to say this is a miss, it's a nice fabric, a nice cut, a fun pattern, a great combo. But just not for me right now.
I'm a sucker for a statement sleeve. This blouse looked like a lot of fun, yet still wearable to the office. I envisioned it tucked into classic trousers or untucked with dark jeans and heels. The color wasn't quite as pretty in person, the sleeves were inches past my fingertips making it impossible to do most anything, and it was too tight in the bust. Miss.
I've been looking for a pair of leopard print haircalf pumps with a not too high yet slim heel, a pointed or at least almond toe, not too orange, not too brown, not too white. These looked good, and they also look really good in person. However they run very narrow and I couldn't even fit my heel in them. I have bought Ann Taylor shoes before and never found them to run so narrow. If you have narrow feet, these shoes are a hit. Otherwise, miss.
It's not a skinny belt, it's not super wide. It's a classic belt, no weird details to date it. The perfect size to change up the look of a dress, to cinch a sweater coat, and fit in wide belt loops. Hit!
This sweater is too big for me, but it was a final sale. I was sad, it makes me look like a football player, but I took it with me on a weekend getaway in case it got chilly and late at night we sat on the couch in our room watching TV and I put this on and it was so soft and cozy... I won't be wearing this out of the house, but gosh it's a lovely soft and cozy sweater for lounging. And while I feared it was the type of knit to pill everywhere, I haven't had that issue. That being said, I haven't yet cleaned it. If it wasn't final sale I would have returned it so I guess it's a miss though I was wearing it just this morning when drinking my coffee and scrolling through Instagram...