I've had a few gifted items and some purchases I've made recently from brands I know you all love. Most were misses for me but not misses in general so they deserve some love. I know we're not all built the same with the same lifestyles or personal styles so I believe my misses can be beneficial and future hits in your closet!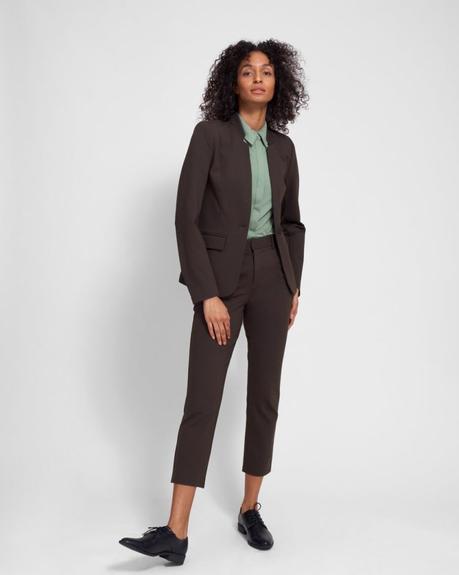 I love suits, they're so good for my lifestyle. I can do the blazer with jeans, the pants with a sweater, the look together with a silky cami and heels for an evening blogger event or a graphic tee and sneakers for a more casual day one. I rock them with turtlenecks and ankle boots, and sometimes with no top at all. I got the Miranda blazer in XS, my standard size, and because I reviewed the cigarette pants before in black and found them a bit too snug for my liking, I went up a size in them. I got both of them in the brown color (Mole).
Both pieces also come in black; the jacket comes in a color called Storm that looks like a slate blue with a hint of green to it; the pants also come in navy. Neither come in petite or tall, both are available sizes 00-40. So for me a miss, but for others this suit is a serious hit!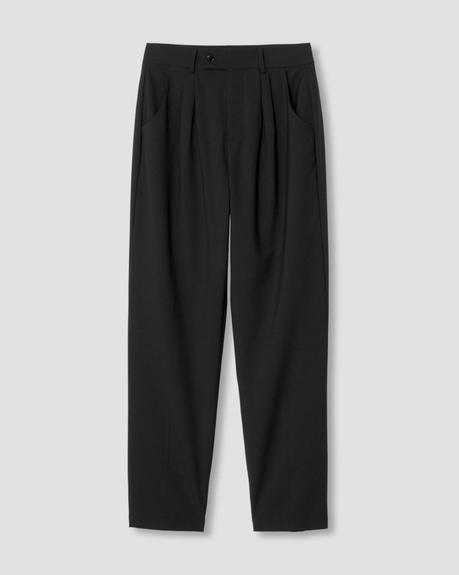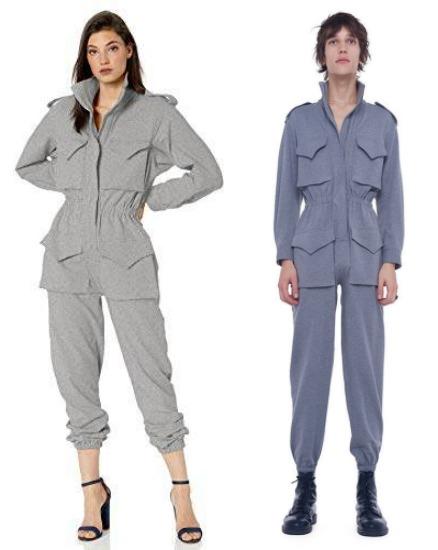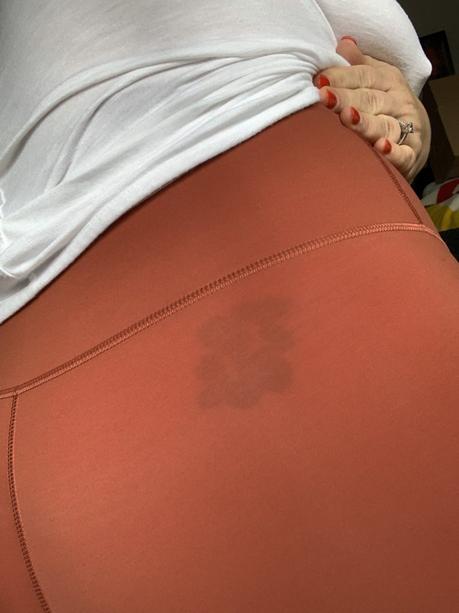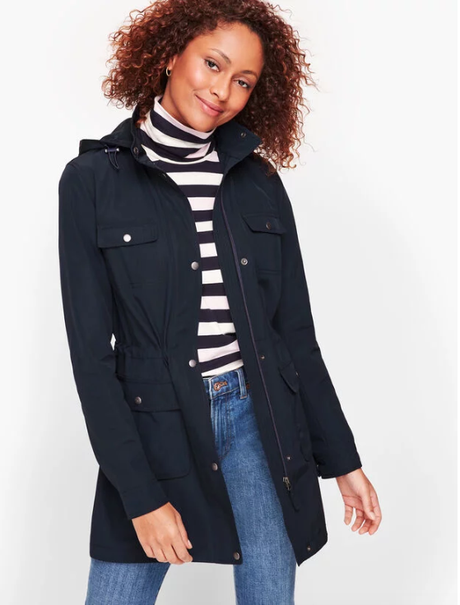 Talbots shared their spring looks with me and I asked for a few releases to style for the blog and/or social. This raincoat is one I asked for as I don't have a raincoat. I have the olive one in this blogpost but it left me soggy on a rainy vacation day. It comes in pink and navy; since I own this pink trenchcoat from Talbots, I went with navy. And I am so glad I did. This is the kind of classic raincoat I can throw over a dress or jeans, will be chic on travel, and will be stylish for years. Unlike many coats these days you find you can't launder, this one can be thrown in the washing machine and dryer (though I haven't done that yet). The hood can zipper off leaving you with a standing collar. The hood has an elastic drawcord for gales. The coat has a heavyweight zipper and snaps to keep dry and warm. There is an elastic drawcord at the waist so you can make it look more anorak style and cinch or leave it straight. Two chest and two front pockets with snap closure big enough for your phone, gloves, keys, and more. The lining is the taffeta-finish acetate not silky, so it won't stick to sweaty or damp skin. This raincoat comes in Misses and Plus sizes, though the plus only comes in Navy. Hit!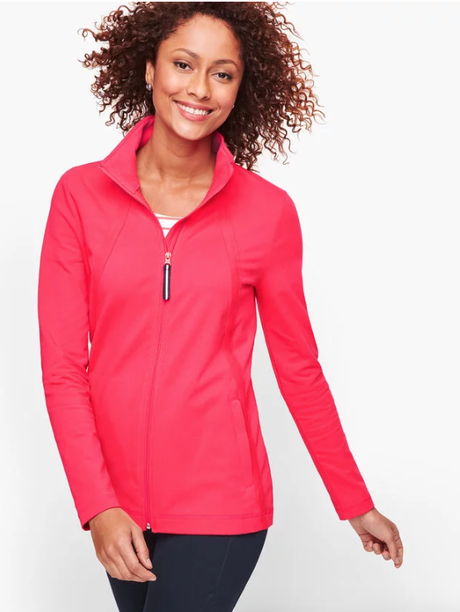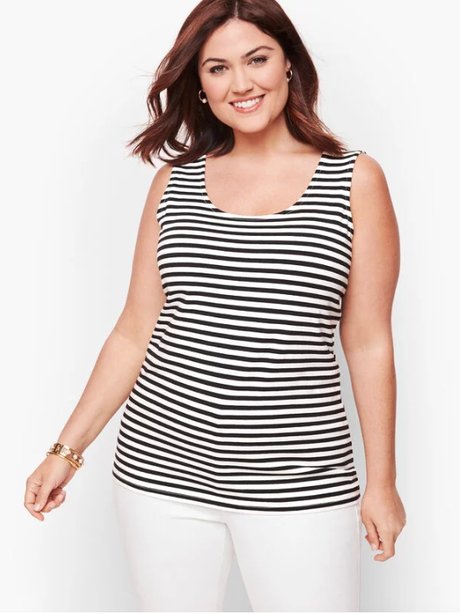 Y'all know I love my stripes! I love having striped tanks, but they often are too low cut and regularly have a solid-colored band around the neckline which makes it look more casual. This one from Talbots, which comes in four classic stripe colors, has no band and I know Talbots won't be cut to have all my cleavage on display. I asked if they would send me a Large Regular, wanting length to be able to tuck and blouse. And this is the perfect size. It covers my bra, isn't too low or high at the neck, and a smooth knit that can be casual or look chic under a blazer. As I mentioned, I wore this tank it under the brown suit and loved the effect, and wore it under the yoga jacket. It looks nice on its own, straps wide enough to cover any bra and weight heavy enough to be opaque. It comes in Misses, Petite, and Plus. Hit!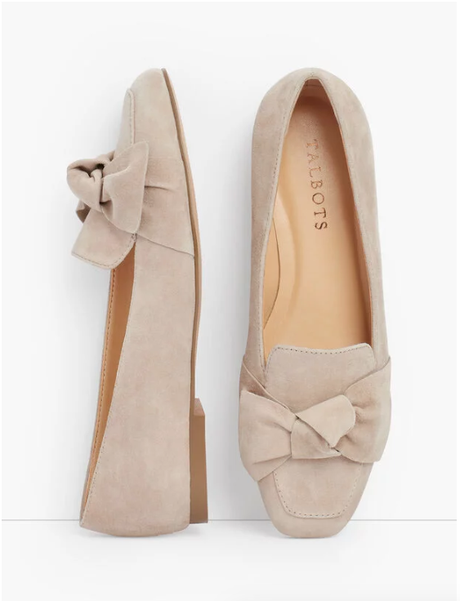 I've really been digging loafers lately and have been wearing my blush pink ones from Clarks a lot. I asked Talbots if I could have a pair of these loafers in Safari Sand, size 8 wide. I liked the elongated toe, the modified bow that isn't too cutesy, and the color that would be very low contrast to my skin. I've had a lot of success with Talbots shoes in the past and love that they carry some styles in widths. And these shoes are the same style and quality I've come to expect from Talbots... but the shoes are too wide. That is not a phrase I've said very often in my wide-footed life! They are better with no-see socks; I may get some Footpetals to make them work as they don't rub and otherwise feel great. These loafers come in six colors, three widths, and from size 5 to 11. They're not perfect, but I do plan on wearing them so... hit? Not a miss. Next time I may order medium.
Shop the Post: