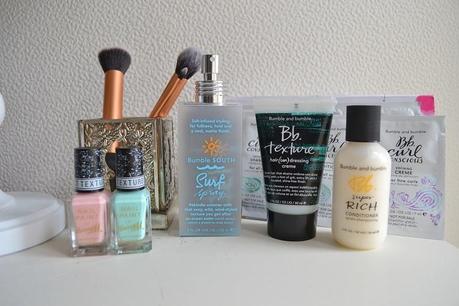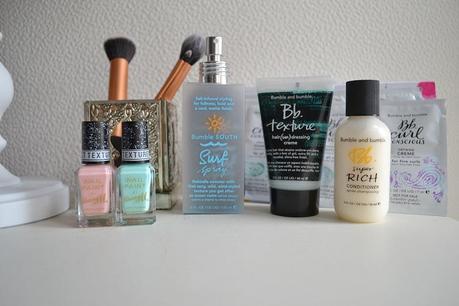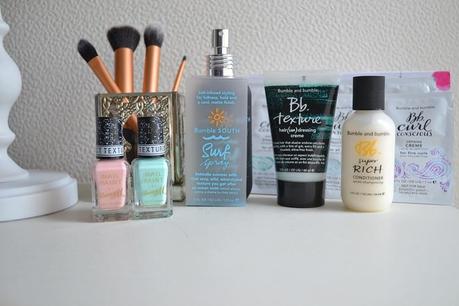 Last week I got my hands on a few new beauty products, some denim dungarees, a denim pinnifore & a sixties style black bikini (posts on the clothes will be coming soon). I've been feeling a little bit under the weather the past few weeks, hence the lack of interesting posts. I'm just feeling a bit drained and I still have a mountain of essays and reading to do for university. I've got some exciting plans for the blog when university is done. But with that a side let me run through my latest purchases. First up I ordered Samantha Chapman's Real Techniques Core Collection £20.99 which included four full size brushes and a brush case. The brushes include a detailer brush ideal for concealer or lips, a pointed foundation brush, a buffing brush & a contour brush. Real Techniques is a highly professional make-up brand without the expensive price tag. The texture of the brushes is perfect, an ultra soft and delicate feel complimented by a smooth and lightweight design. Despite my loyalty to the Body Shop brushes I feel now that perhaps I need to try and experiment with other brands. I ordered mine from Love Makeup, an online premium and professional beauty store and they arrived the following day. I'd like to order the Real Techniques Lash-Brow groomer next. I will start using them over the next few weeks so will post a review after. 
 Next up I ordered two Bumble & Bumble products.As I like my hair tousled, messy and volumised I chose the Bumble & Bumble Surf Spray 125ml £21.50 and the Bumble & Bumble Texture Creme 60ml £9.50. I'm extremely conscious about how my hair looks and I'm not your sleek straight hair kinda girl.   I am always on the look out for products that add a bit of texture and interest to my hair. Both these products are right up my street and seem perfect for creating and enhancing my daily bed head look. They also smell amazing. I've been after a salt-infused styling spray for a while as I love having that summer beach hair look, wet, textured and windswept. I  also like that I can use the Surf Spray on dry hair which will allow me to use it on a daily basis. At the moment Bumble & Bumble are offering free delivery and free samples on all orders over £25. In my samples I got the Super Rich Conditioner and I selected samples of the Colour Minded Shampoo, Conditioner & Styling Balm and the Curl Conscious Shampoo, Smoothing Conditioner, & Defining Creme. I also like to see how products are packaged and presented to the buyer. I thought Bumble & Bumble got it spot on. See my instagram if your interested. As we are on the topic of hair, I've just recently got back from the hairdressers and couldn't resist having my ombré dip-dye again. I love having salon-finished hair. I'm going to have the ends bleached blonde nearer the summer so I can have the candied pink or lilac dip.
Lastly, I picked up another two Barry M polishes this week. This time I opted for the Textured Effect in Kingsland Road and Ridley Road. Initially I wasn't too sure how this polish would work as I've only ever worn smooth finish high shine polishes. I applied both earlier today (see instagram) and I'm converted. Both polishes are my ideal pastel shades and the imperfect, rough and dull finish adds a different texture and look. I also think this effect enhances the pastel shade and really makes it stand out. I do love a perfect high shine polish but I can see the textured effect will be at the top of my list for this years Spring/Summer nails. I do hope Barry M add some more colours.
Have you tried any of the products featured in today's post?Do you have any texturising hair products that you can recommend?What do you think of the Barry M Textured Effect Polish?