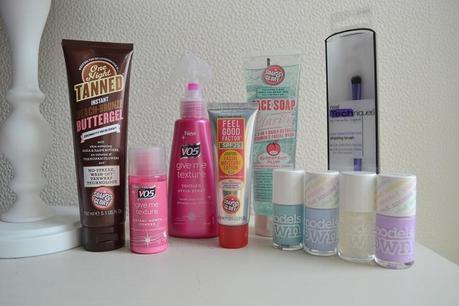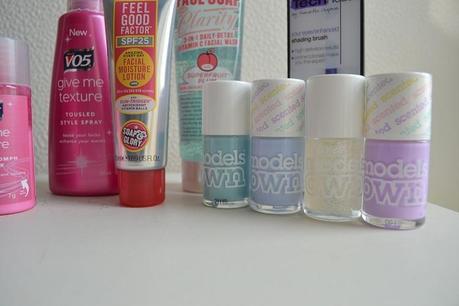 This week university got the better of me. This is the last stretch, and now have a matter of weeks to submit several essays that total almost 12,000 words, and two final exams to revise for. It's pretty intense and I've got to get my head down and give it my absolute all. My final year has been horrendous with difficult family circumstances, and it's still pretty bad, and it's really knocked my confidence to say the least. But despite all this I'm still pushing for my first, I got a first overall last year, and I can't let it slip away. I rarely have time to do anything for myself at the moment, some days I can't even be bothered to put my make up on, but make-up free days are good. I've also found it hard to find the time to blog, but that'll all change soon. After university this week, me and my friend popped  into Boots to pick up a few essentials, along with rather a lot of unnecessary products, and then spoilt ourselves with our favorite food: a wagamamas.
Recently I've been really pleased with the Soap & Glory* products and their skincare range is exceptionally good. I've been using the Soap & Glory Face Soap £7 along with the Bright Here Bright Now Instant Radiance Energy Balm. I still have a bit of the balm left but decided this week to try the Soap & Glory Feel Good Factor Amazing Everyday Facial Moisture Lotion with SPF25 £12. The cold weather, along with tiredness and stress has made my skin a bit dry and less radiant, so I'm hoping this everyday moisturiser will inject some hydration and a much needed glow to my complexion. As Spring has arrived, and nights out can be braved by bare legs (I always go out with bare legs), I picked up the Soap & Glory One Night Tanned Instant Beach Bronze Buttergel £9.50. I love anything that has a coconut scent, and was instantly won over by the coconutty fresh scent and the texture of the gel.
I also picked up two new VO5 products that I've been wanting to try from their new range. What I love about this range is that its all about texture and volume, which is key to my everyday hair. I currently use their Give Me Texture Dry Texturising Spray £3.49 which is becoming one of my all-time favorite hair care products, and is perfect for adding some volume. I'd like VO5 to maybe do some handbag size bottles of this, please? This week the VO5 products were 2 for £5 in Boots so I picked up the VO5 Give me Texture Tousled Style Spray £3.89 and the Give Me Texture Instant Oomph Powder £4.07. I used the powder this morning after I'd blow dried my hair. This products really quirky, and wouldn't usually be something I'd try, it's really easy to use and smells just as sweet as the dry texturising spray. Simply pour a little onto your roots and work in for extra volume, it almost has a hair spray texture to give an extra bit of hold for a lasting finish. I'm going to do a post on my hair care routine soon as quite a few of you are wondering how I get my hair so big and volumised, apart from waking up with a wild bed head, I do use a few products to tame it into a finished style
I'm a bit of a sucker for nail polishes, especially the pastel shades on offer for this Spring/Summer. I picked up four Models Own* polishes as they were 2 for £5, selecting two from their scented range: Grape Juice and Blueberry Muffin and then Blooboo and the glitter in Jack Frost. I love the pastel, summer look to these shades, and they create a thick, polished look. If you haven't tried their scented range, seriously finish reading this post and run to Boots as fast as you can. I'm currently wearing Blueberry Muffin (see my instagram) and my nails smell amazing. You can never have to many pastel shades and they will look perfect against a tan in the summer. Currently online at Models Own if you buy 5 nails polishes you save £5.00, tempting much? I love the Ice Neon Collection and the Fruit Pastel Collection.

Lastly, and just briefly, I have been loving the Real Techniques make-up brushes and I have noticed a real difference in the application of my make-up in the mornings. This week I picked up the Real Techniques Shading Brush £7.99 to add to my growing collection. If you are looking for an alternative place to purchase them visit Love Makeup for some of the best stocked make-up brands, excellent service and fast delivery.
*Soap & Glory products are currently 3 for 2 in Boots. Soap & Glory aren't offering 3 for 2 online, but you do bag yourself a free Butter Yourself Super Rich Smoothing Body Cream worth £10.50 when you spend £12 or more online.
*Models Own Polishes in Boots are currently 2 for £5
If you haven't already please vote for www.british-couture.com for the 'Best Personal Style Newcomer Blog' award here.
I'm currently looking for some more blogs to add to my reading list, leave your blog links below.